«The Seven Swabians» - A Corgi 1/48 model of the Fokker D.VII - «I Sette Svevi» - Un modello Corgi 1/48 del Fokker D.VII

Contents

- Contenuti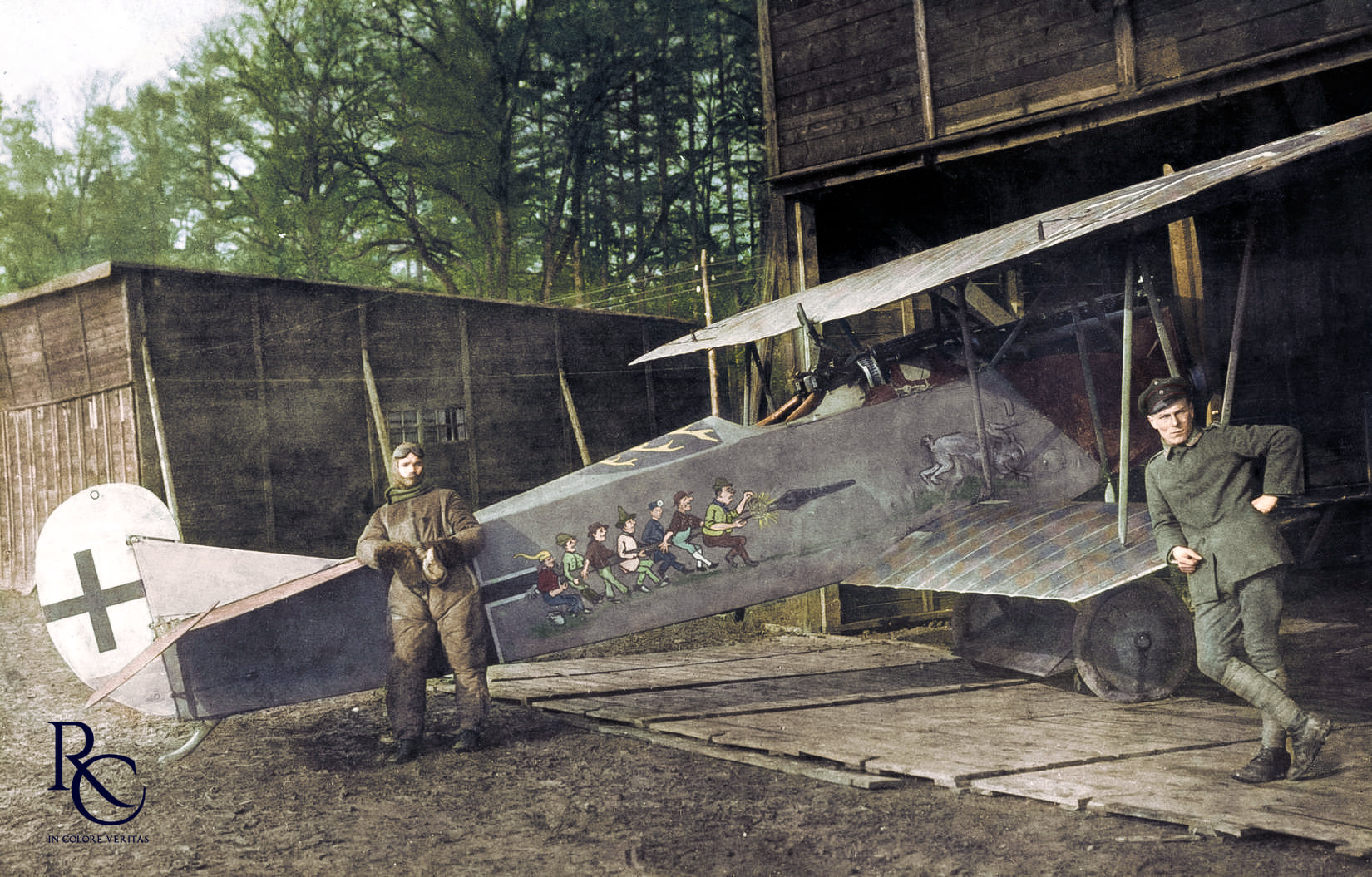 I can't define myself a modeler. As a boy, I assembled tens of 1/72 kits, almost exclusively by Airfix, but I wasn't patient nor skilled enough to obtain good results.
Despite my fondness for aeronautics, I never honed my skills, and after 40+ years without building a kit today I'm worse than ever.
Since the time when I read Kenneth Munson's book about the WWI fighters, I've been fascinated by the lozenge camouflage (https://en.wikipedia.org/wiki/Lozenge_camouflage) sported by many German and Austrian aircraft.
The exact look of its versions is a still debated subjects, and much can be found by googling. One thing is sure: both the use of full-wing decals and the painstaking painting of each lozenge, even though masks may help, is a matter for serious modelers.
Not being one, I looked for pre-built and pre-painted models of suitable quality, and I was delighted to find the Corgi model pictured here under, at a reasonable price (under 50 £).
I scratch-built the aerodrome display base, with a fantasy refueling cart made with scraps from old kits and plastic bits of questionable vintage.

The model reproduces the plane of Alfred Bäder, himself a Swabian, who chose to decorate it with a motif from the Brothers Grimm's «The Seven Swabians».
Uffz Alfred Bäder, born in Tübingen on 20 September 1893, joined Jasta 65 from Jastaschule 2, serving with the unit from 31 August 1918 to 11 November 1918. During this period he scored two victories, both over Salmson fighters, one on October 2 (Gercourt) and another on November 8, 1918 (Buzy). He was wounded in combat on September 4.

Non posso definirmi un modellista. Da ragazzo ho assemblato decine di kit da 1/72, quasi esclusivamente Airfix, ma non ero abbastanza paziente né abile da ottenere buoni risultati. Nonostante la mia passione per l'aeronautica, non ho mai affinato le mie capacità e, dopo oltre 40 anni senza costruire un kit, oggi sono peggio che mai. Fin da quando lessi il libro di Kenneth Munson sui caccia della I G.M., sono stato affascinato dalla mimetizzazione a losanghe (https://en.wikipedia.org/wiki/Lozenge_camouflage) esibita da molti aerei Tedeschi e Austriaci.
L'aspetto esatto delle sue versioni è un argomento ancora dibattuto, e si può trovare molto materiale cercando su Google. Una cosa è certa: sia l'uso di decalcomanie a tutt'ala, sia la penosa pittura di ogni losanga, sebbene ci si possa aiutare con maschere, sono faccende da modellista serio.
Non essendolo, ho cercato modelli preassemblati e dipinti di qualità adeguata, e son stato deliziato di trovare il modello Corgi raffigurato più sotto, a un prezzo ragionevole (sotto le 50 £).
Ho costruito da zero la basetta con l'aerodromo, con un fantasioso carrello di rifornimento fatto con pezzetti di vecchi kit e frammenti di plastica di discutibile provenienza.

Il modello riproduce l'aereo di Alfred Bäder, Svevo lui stesso, che scelse di decorarlo con un motivo dalla favola dei Fratelli Grimm «I Sette Svevi».
Il tenente Alfred Bäder, nato a Tübingen il 20 Settembre 1893, raggiunse il Jasta 65 provenendo dalla Jastaschule 2, e prestando servizio presso l'unità dal 31 Agosto 1918 all'11 Novembre 1918. Durante questo periodo ottenne due vittorie, entrambe a danno di caccia Salmson, una il 2 Ottobre (Gercourt) e l'altra l' 8 Novembre 1918 (Buzy). Fu ferito in combattimento il 4 Settembre.
---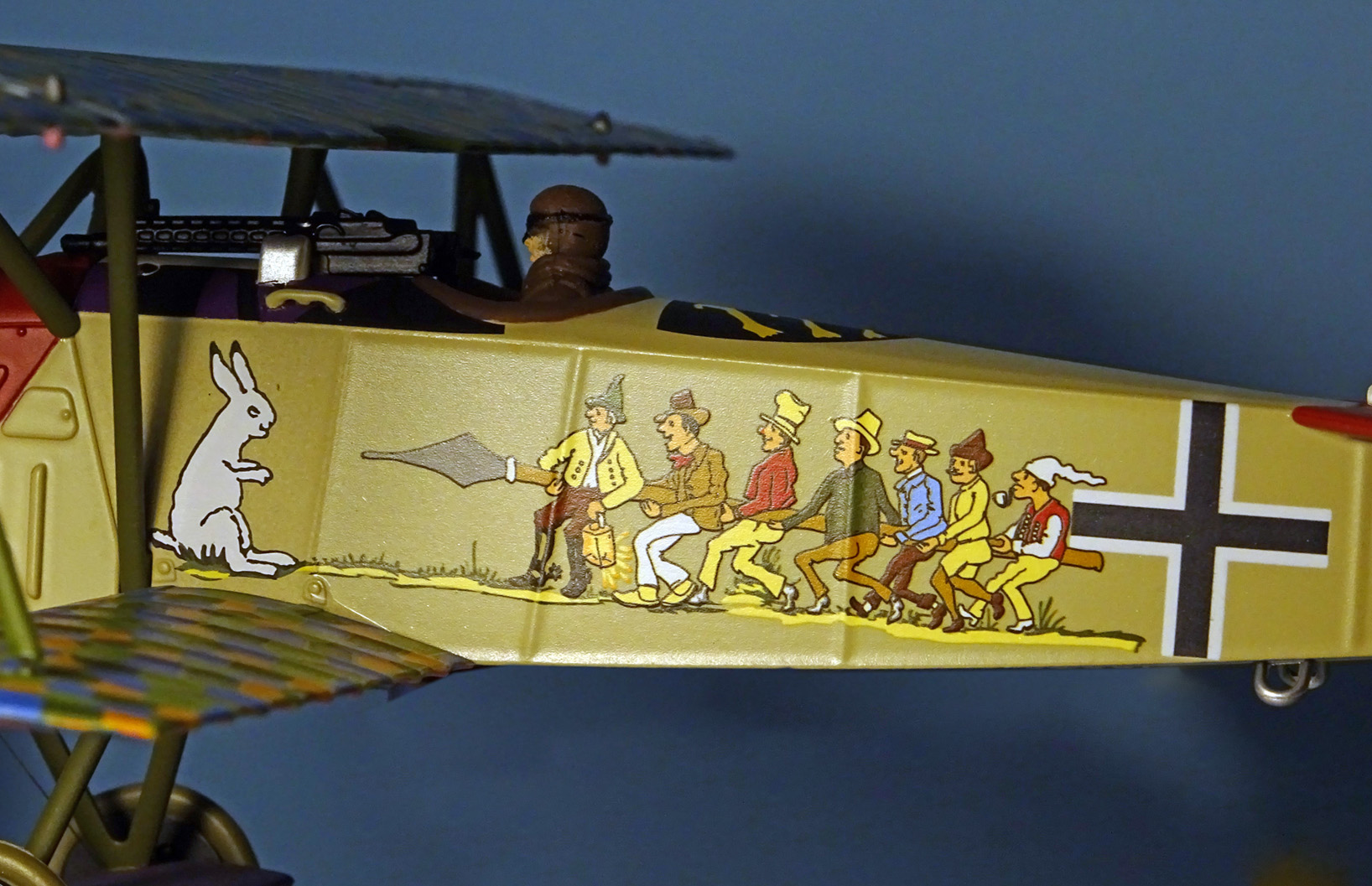 ---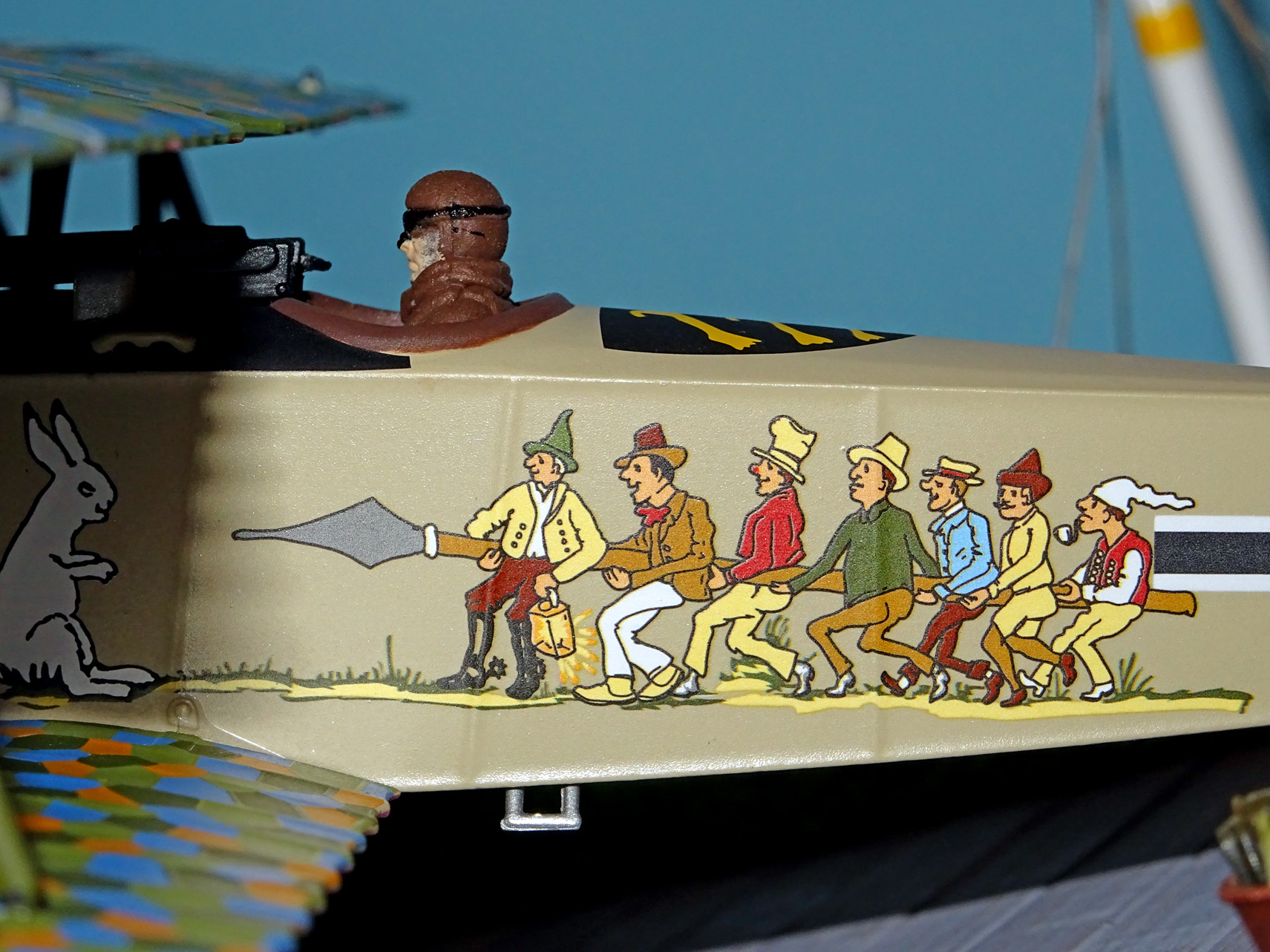 ---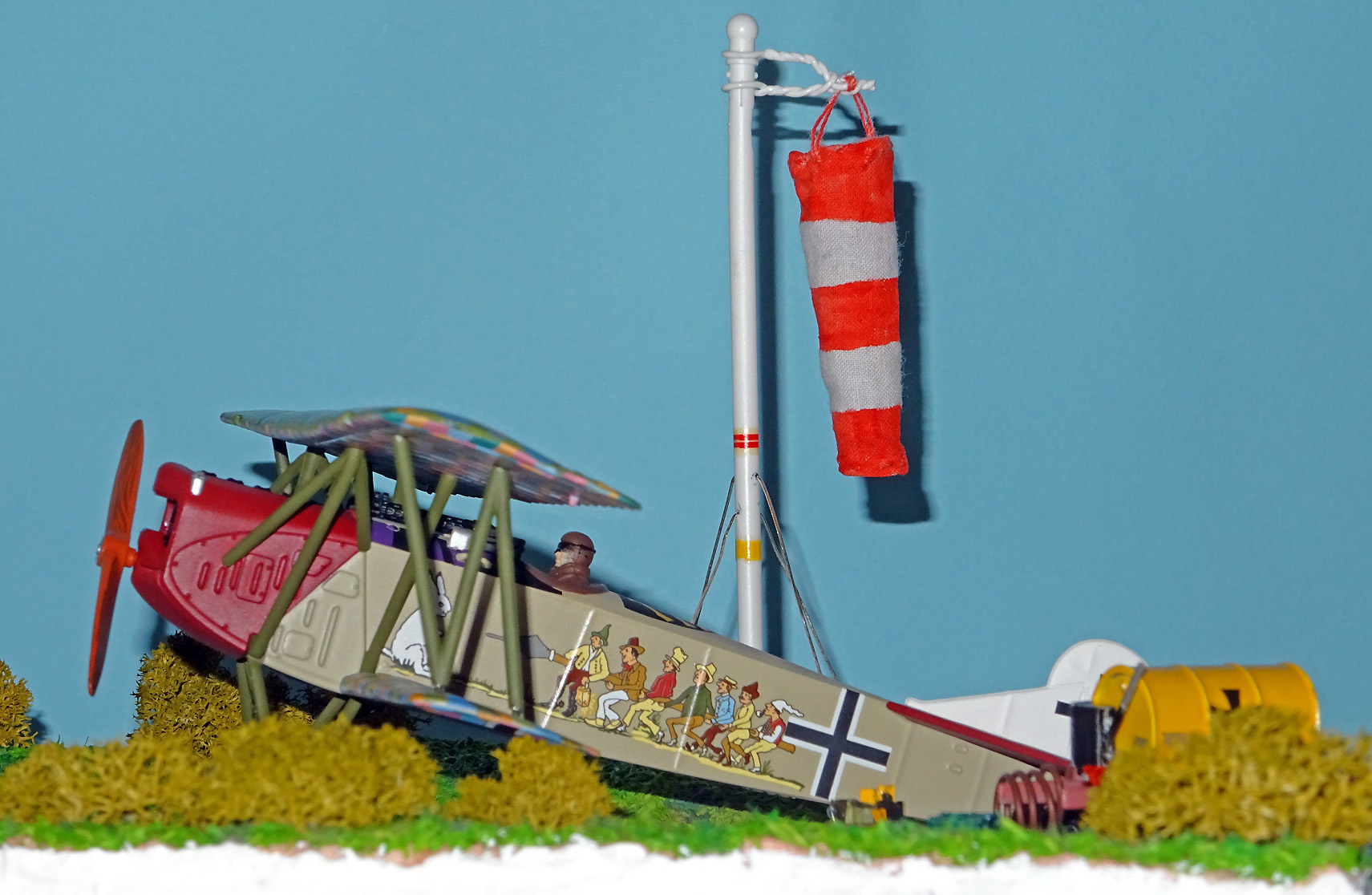 ---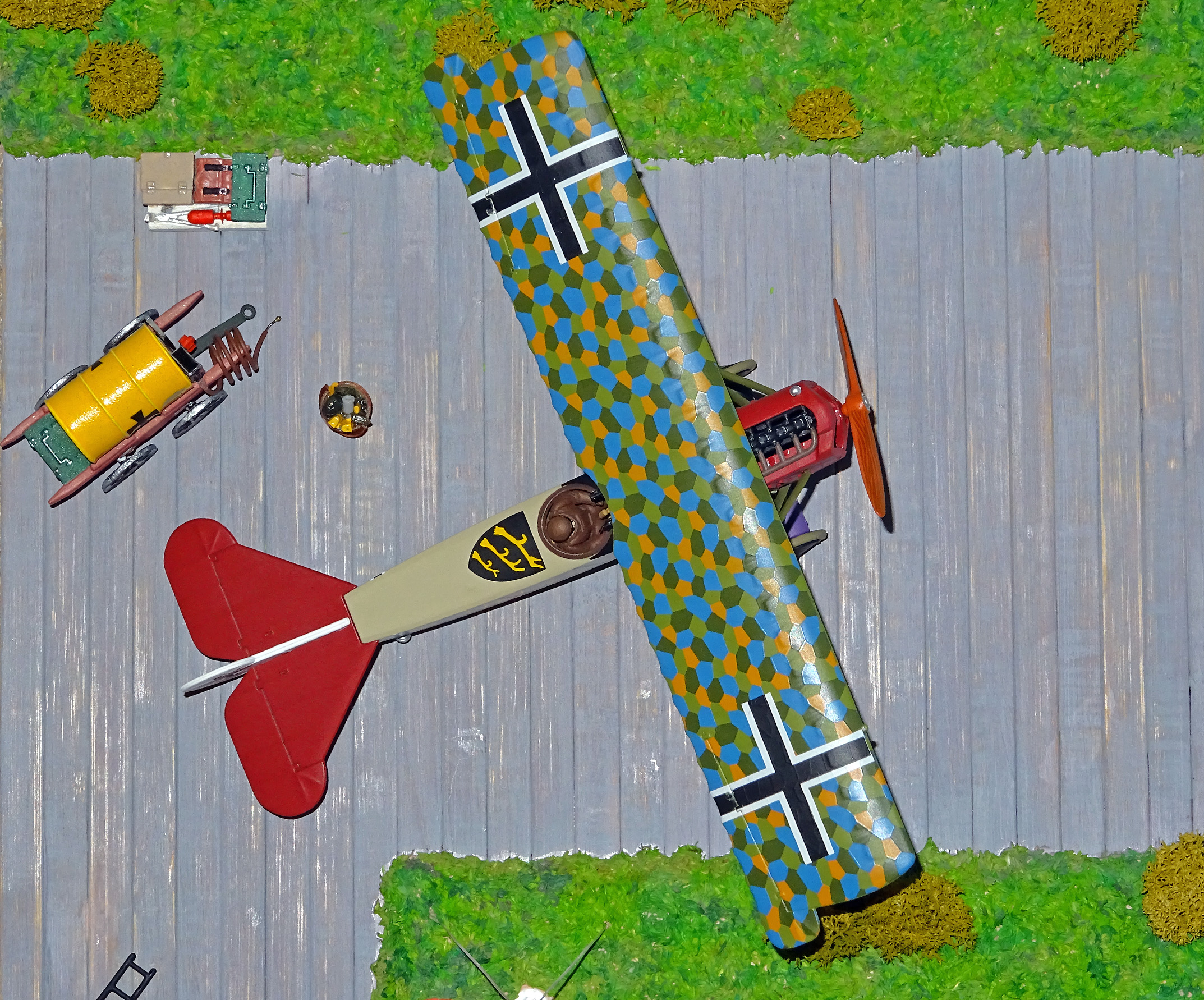 ---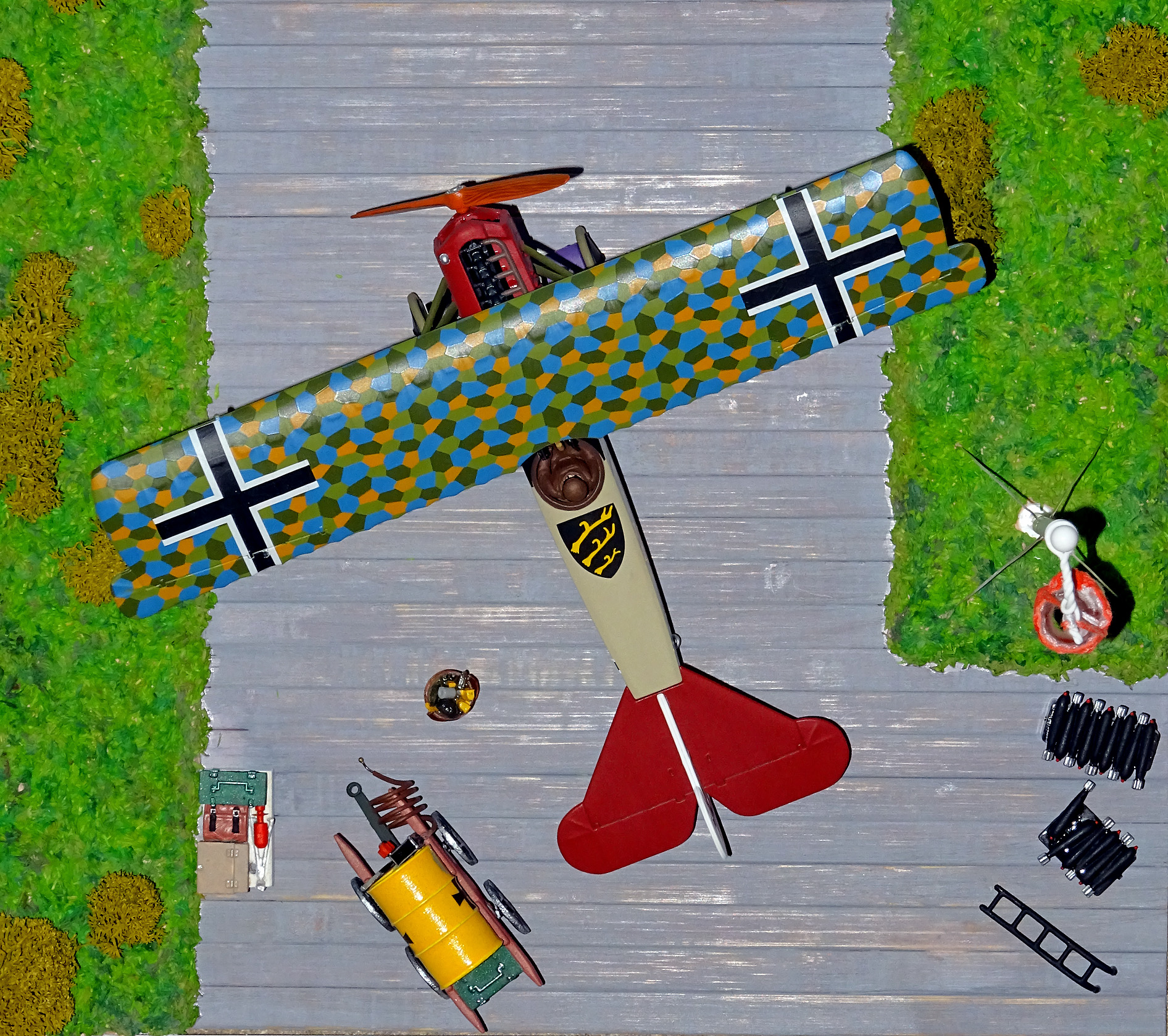 ---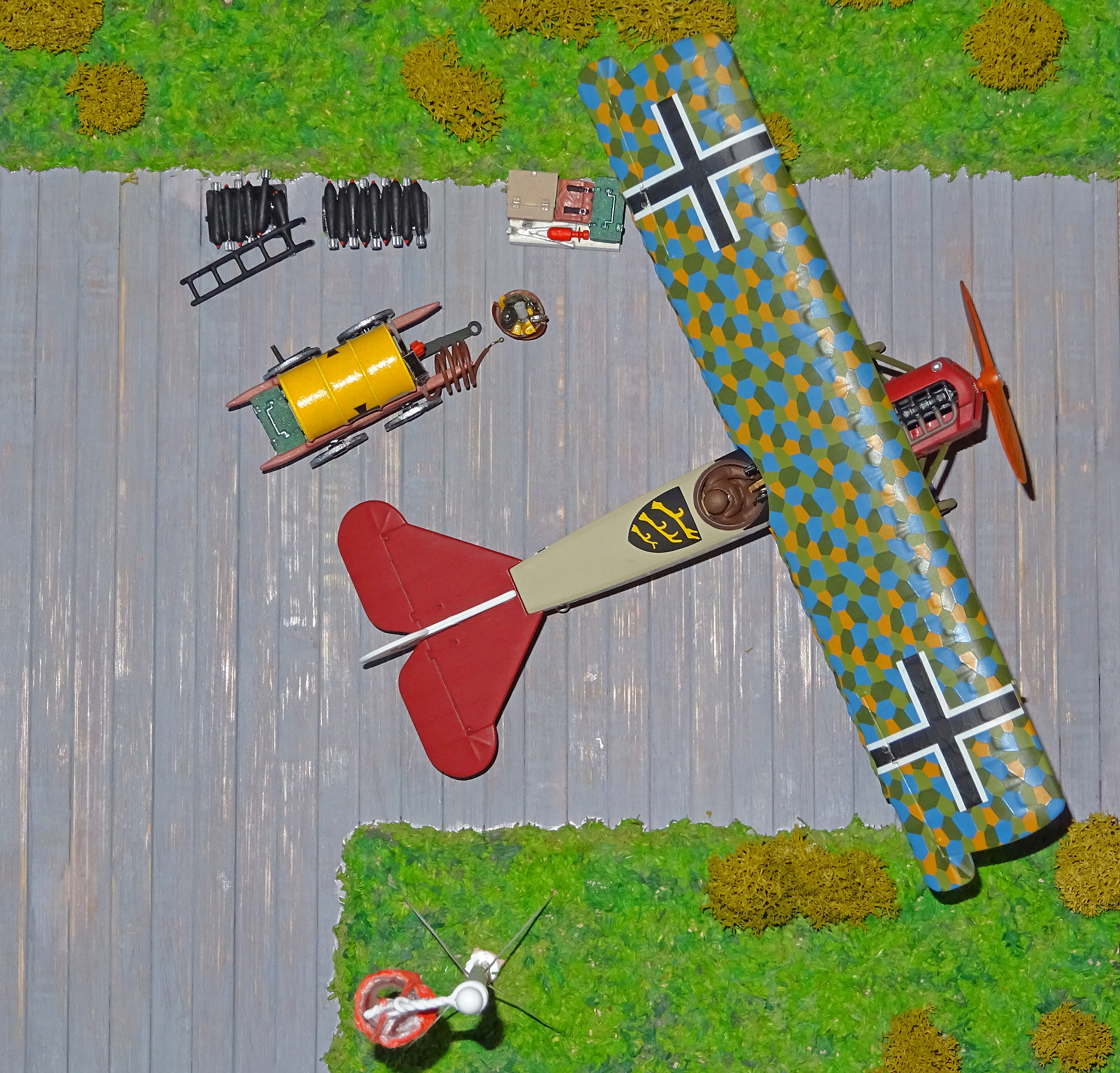 ---
---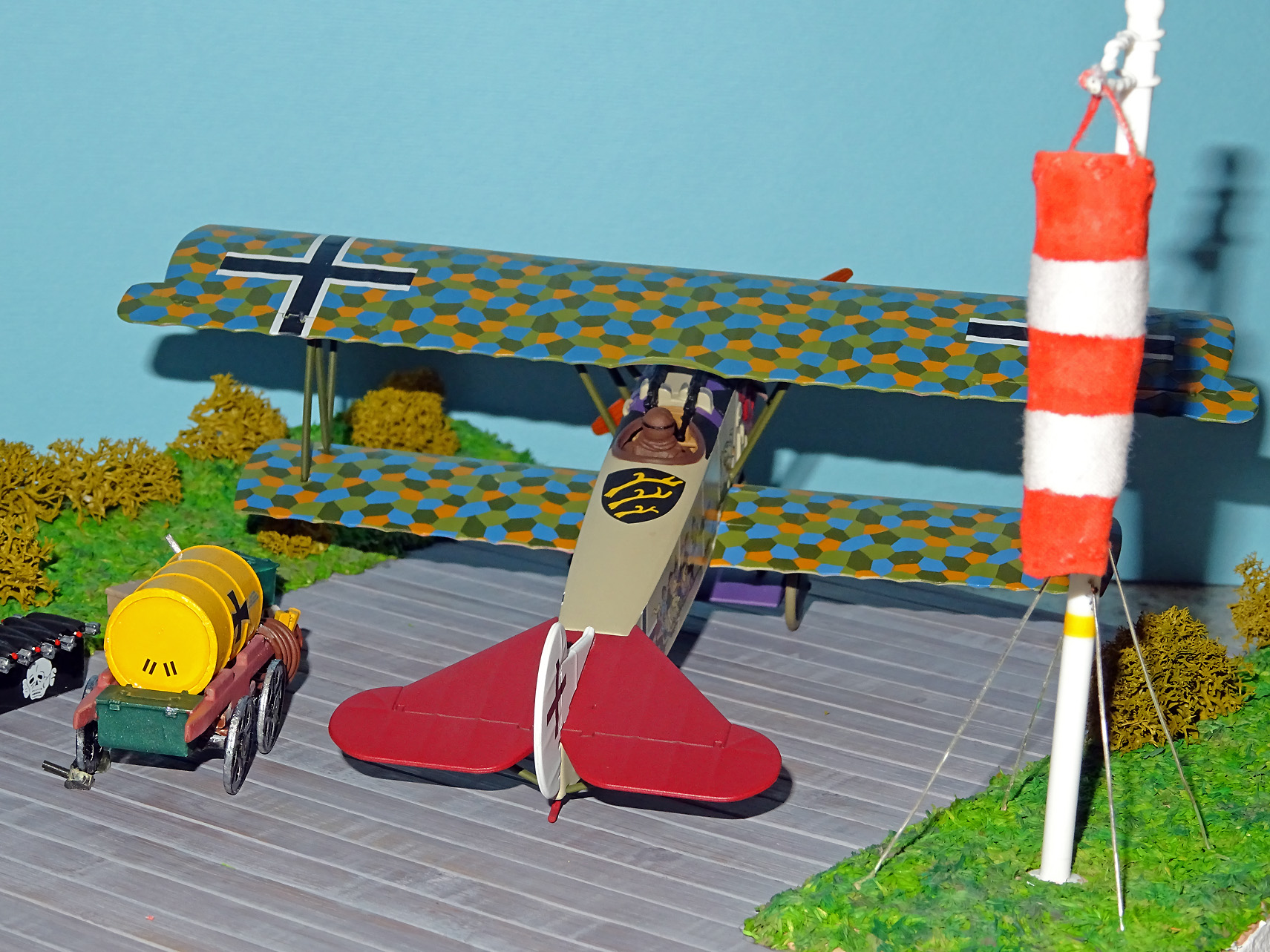 ---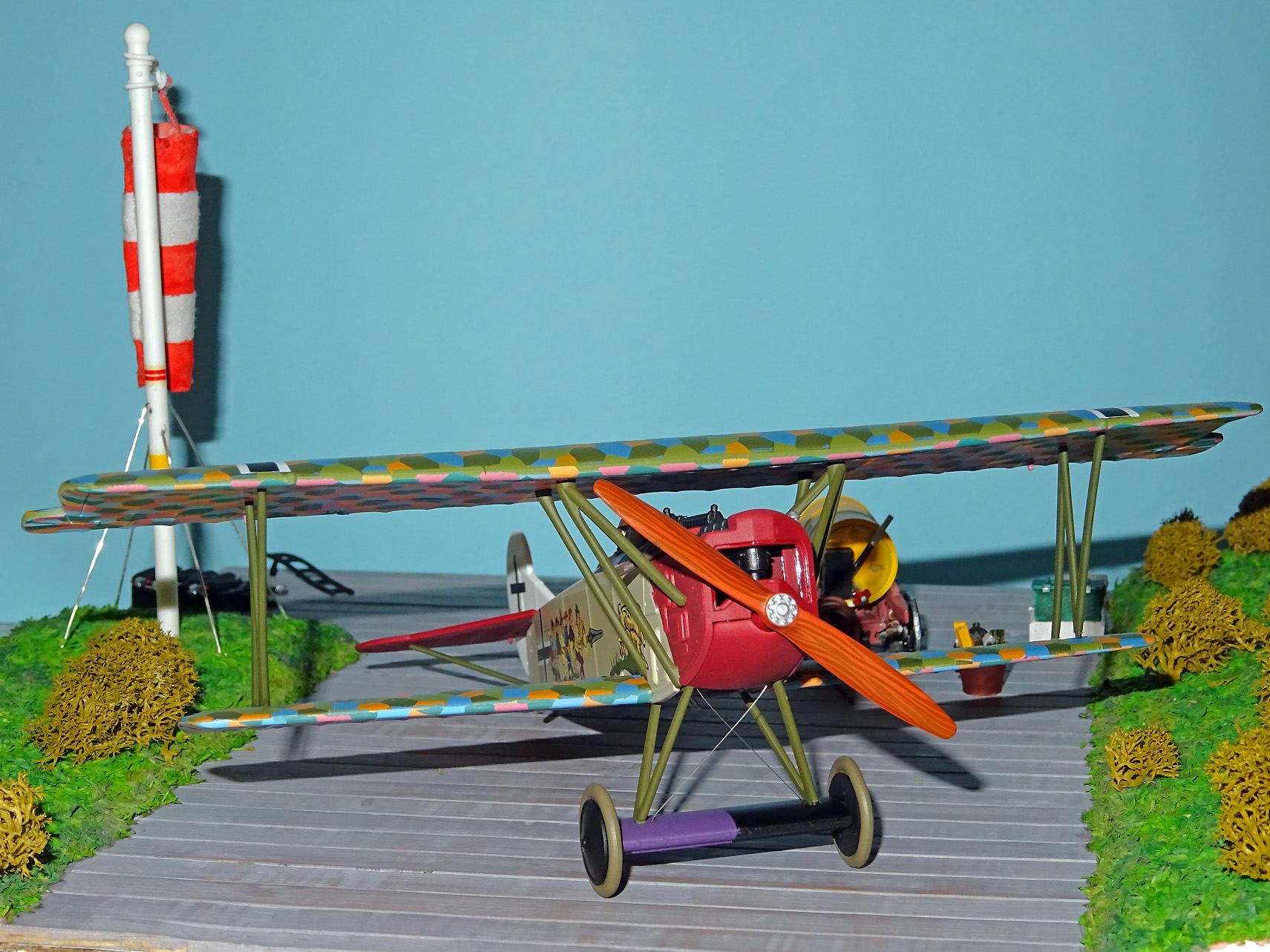 ---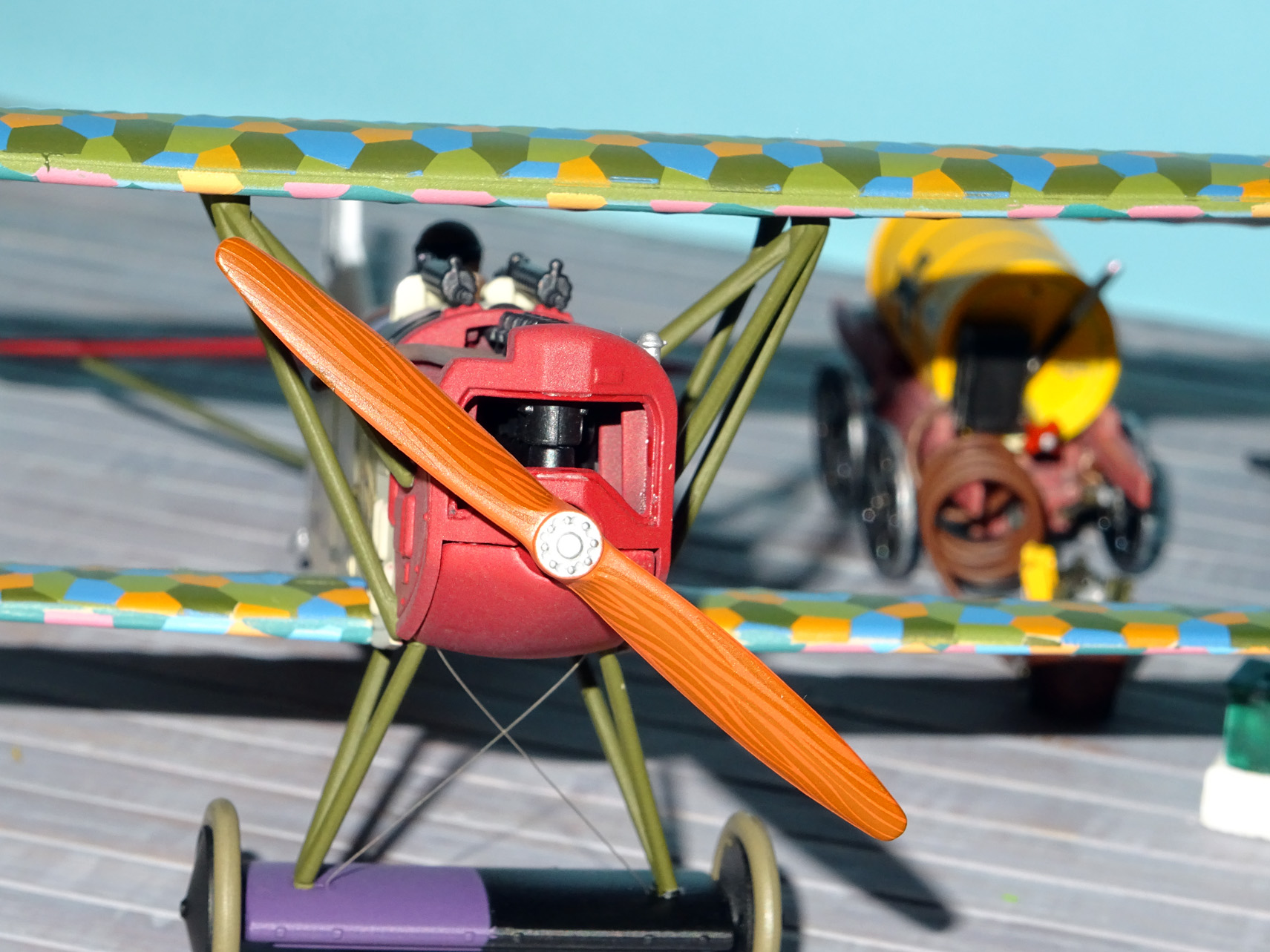 ---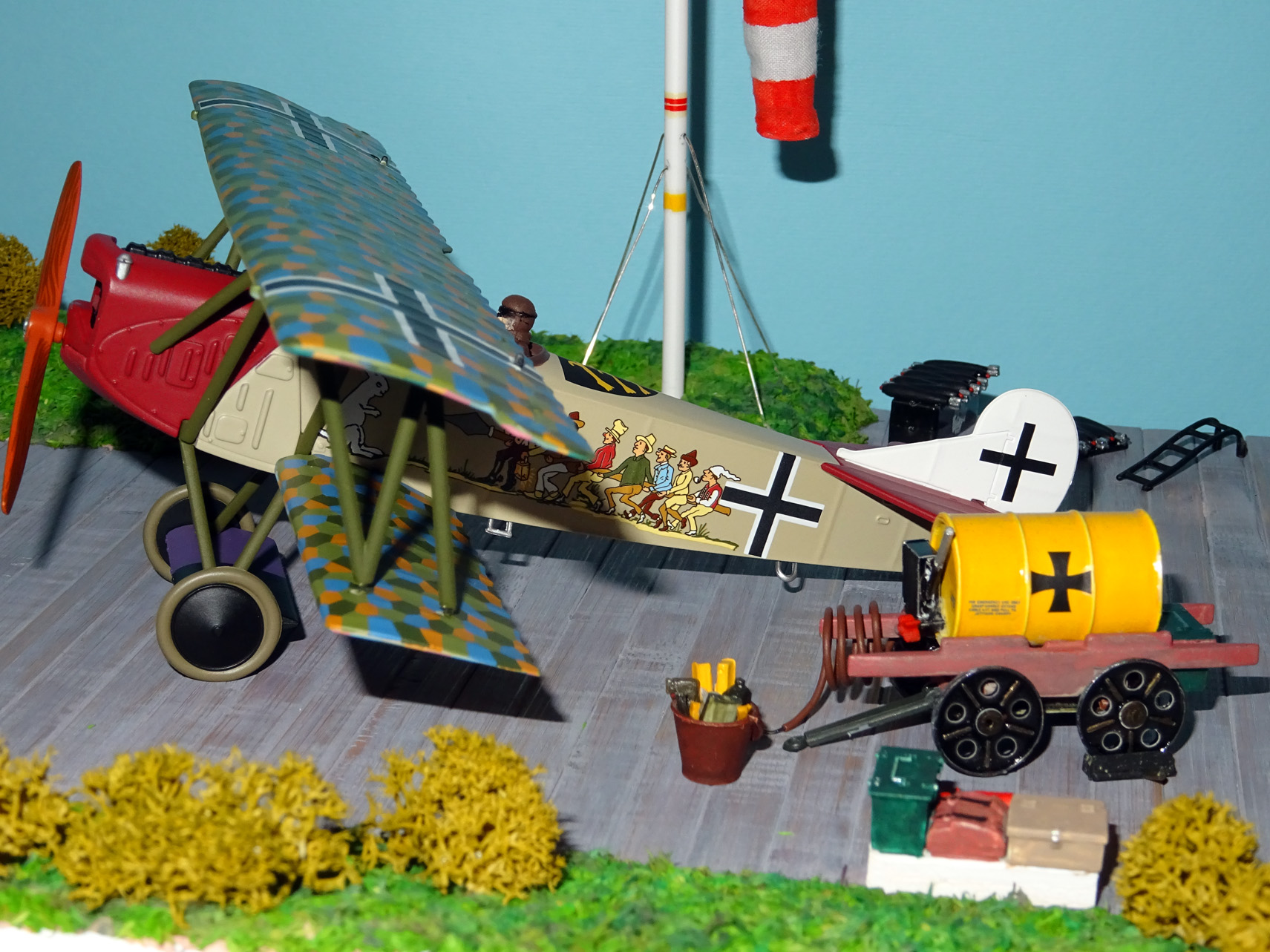 ---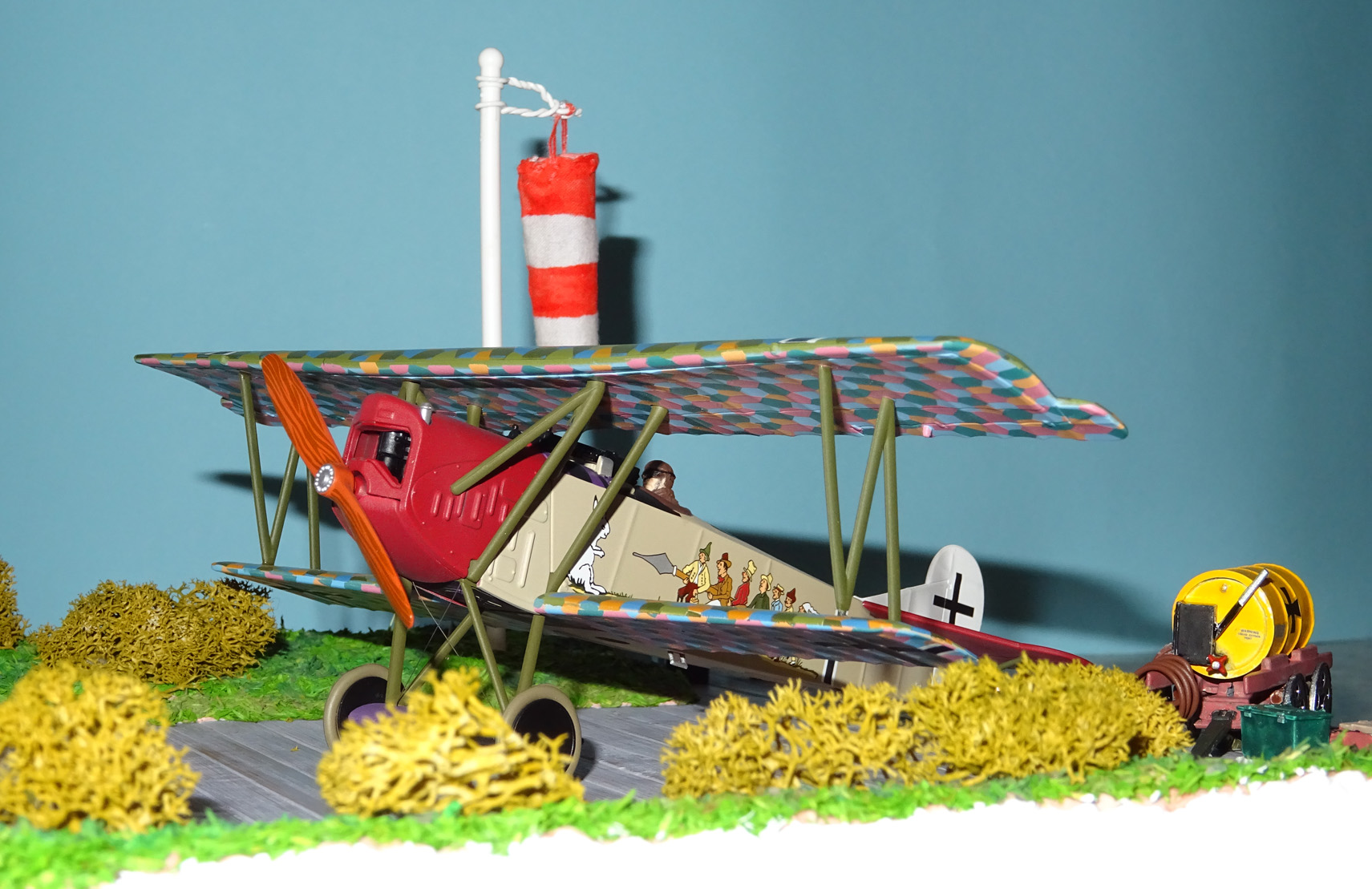 ---
---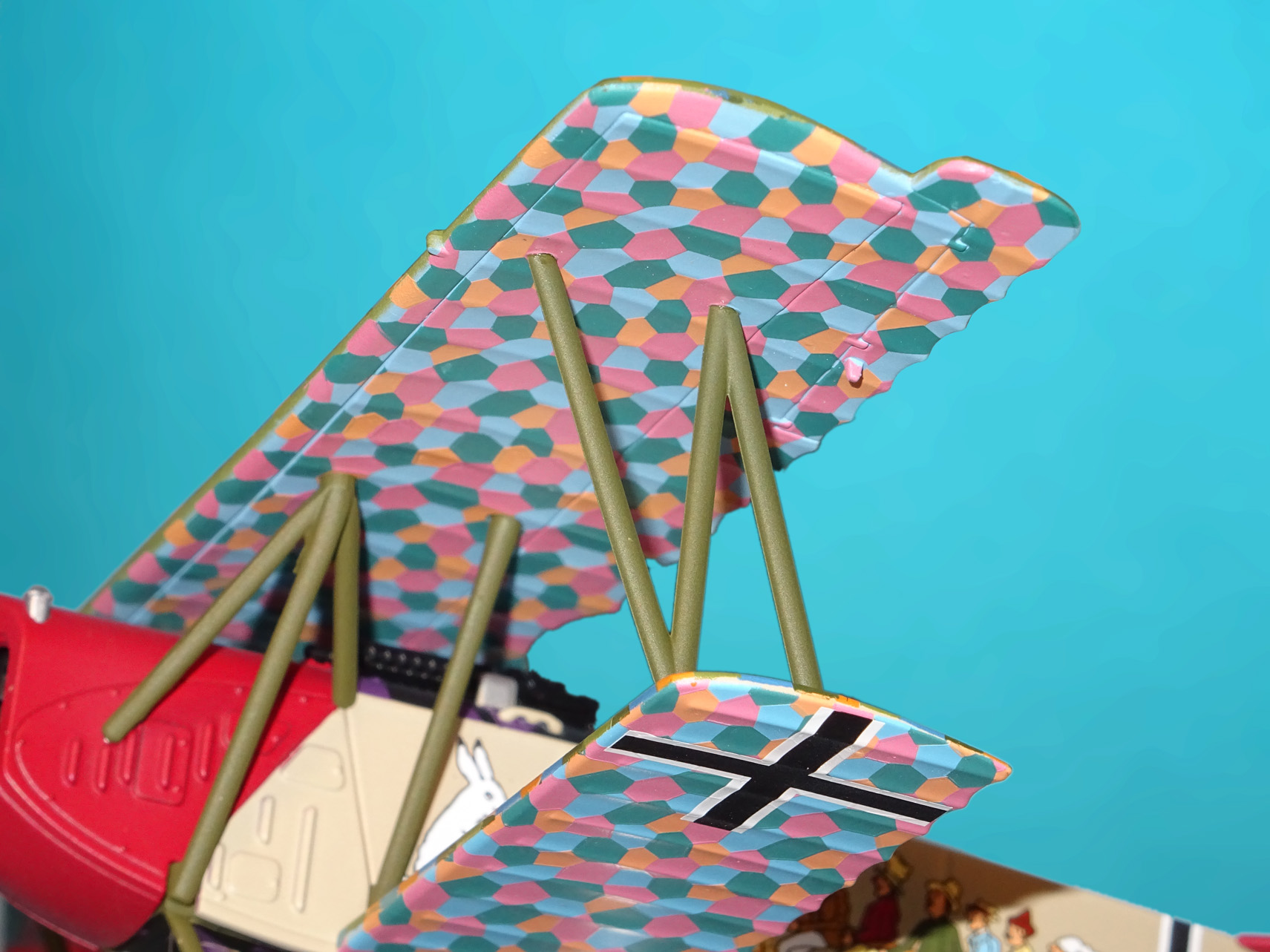 ---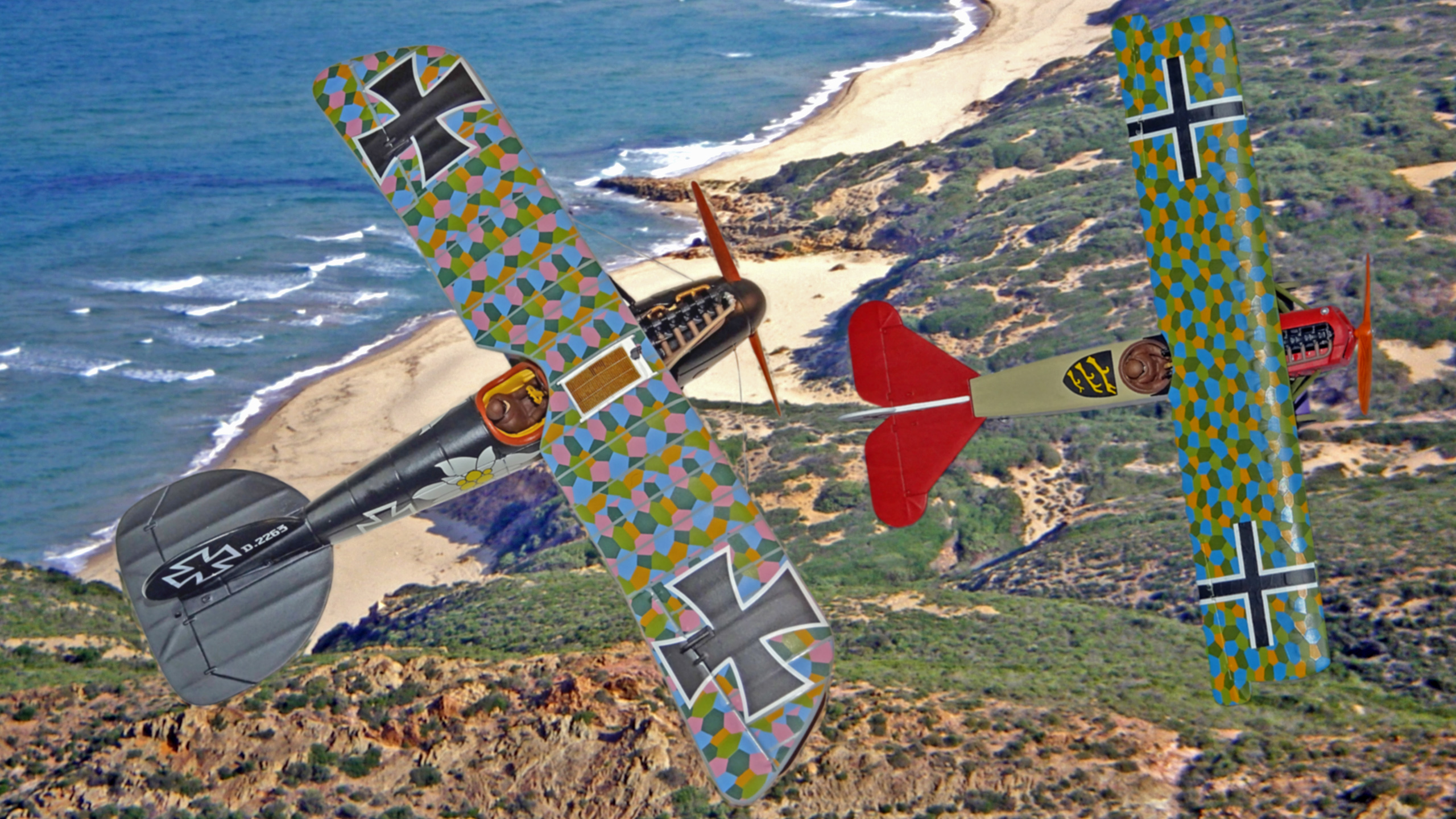 ---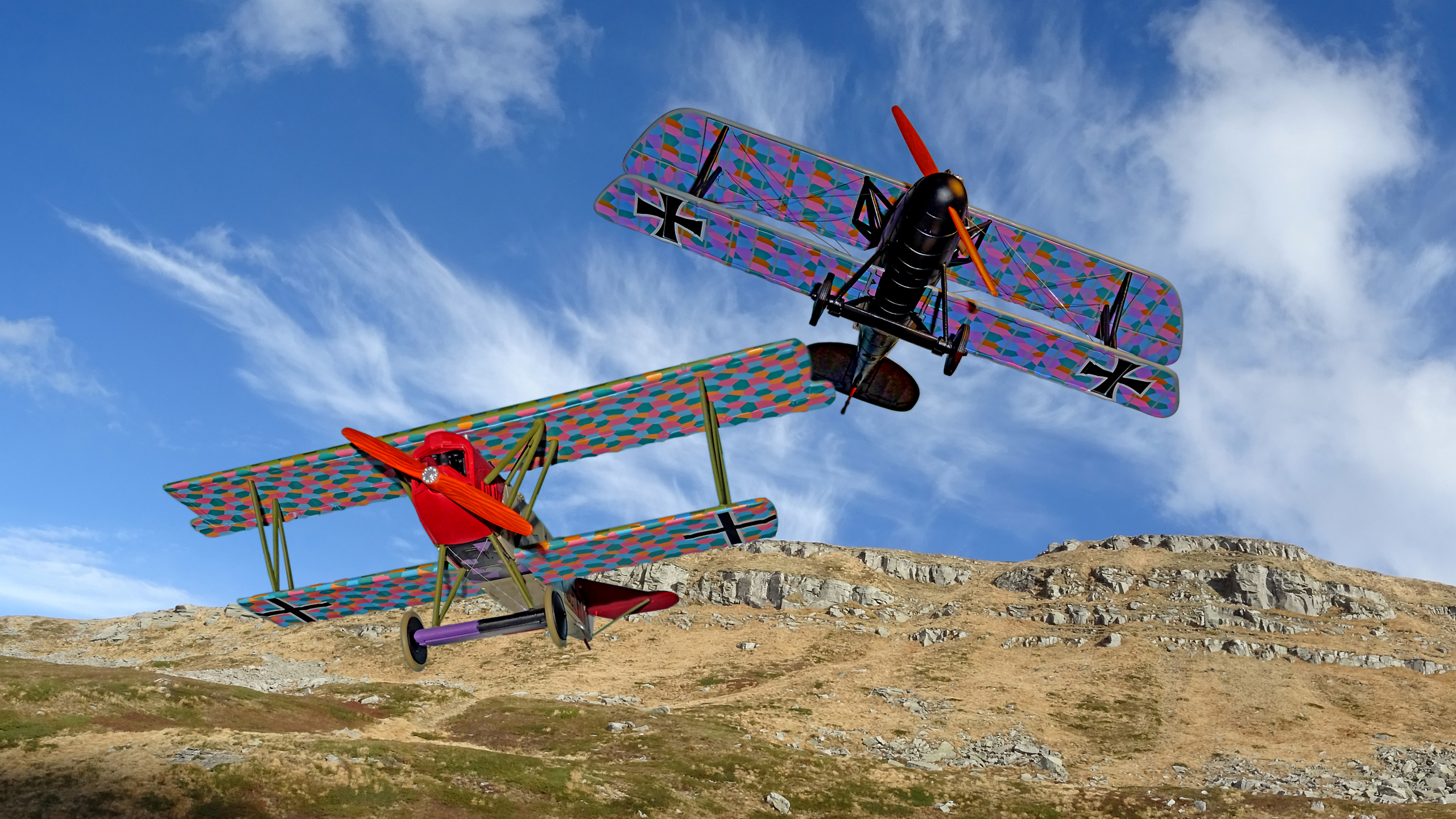 ---
❦