Modalità video suggerita:1024x768 16 M colori
Suggested Video Mode: 1024x768 16 M Colors


Hyla intermedia - Photo: http://www.hlasek.com/Hyla_arborea_4222.html
Click su qualsiasi immagine per ascoltare il mio campione audio (111Kb). Dispongo di registrazioni molto più lunghe dello stesso canto.
Click on any image to listen to my audio sample (111Kb). I have available much longer recordings of the same song.
Descrizione canto:&nbsp/&nbspSong description:
Il canto consiste di circa venti gruppi di nove impulsi. Ogni gruppo dura tipicamente meno di un decimo di secondo, il volume massimo viene raggiunto gradualmente al sesto impulso, l'ultimo impulso è più flebile ed ha una durata maggiore. L'altezza del suono può variare con la temperatura, ma tipicamente è presente una fondamentale a circa 1300 Hz ed una prima armonica a circa 2600 Hz.
The song consists of about twenty groups of nine pulses. Each group lasts less than one tenth of a second, maximum volume is reached gradually at the sixth pulse, the last pulse is more feeble and has a longer duration. Pitch may vary with air temperature, but typically a fundamental of 1300 Hz is present, with a first harmonic at 2.6KHz.
La responsabilità per la scorretta identificazione della specie dal canto è esclusivamente mia
Responsibility for incorrect species identification from the song is exclusively mine
Spettrogramma del mio campione audio / Spectrogram of my audio sample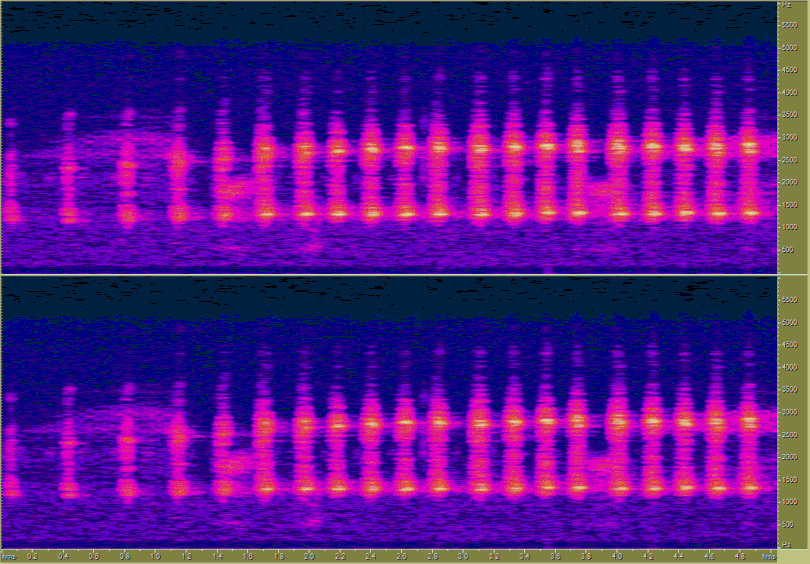 Oscillogramma del mio campione audio / Oscillogram of my audio sample