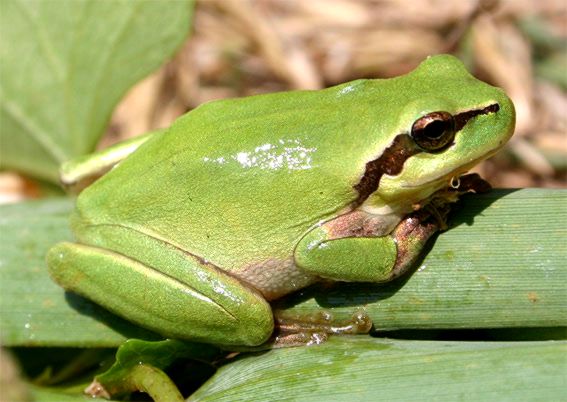 Hyla meridionalis - Photo: http://www.hlasek.com/Hyla_meridionalis_4222.html
Click su qualsiasi immagine per ascoltare il mio campione audio (93Kb). Dispongo di registrazioni molto più lunghe dello stesso canto.
Click on any image to listen to my audio sample (93Kb). I have available much longer recordings of the same song.
Descrizione canto:&nbsp/&nbspSong description:
Il canto è costituito da gruppi, della durata di circa mezzo secondo, separati da intervalli di circa un secondo, e composti di circa 50 impulsi. In ogni gruppo, il volume cresce e poi scende con gradualità, raggiungendo il massimo poco dopo la metà della sua durata. La frequenza dominante è nell'ambito dei 2 - 2,5 KHz.
The song is made of groups, lasting about 0.5 s, separated by intervals of about 1 s, and composed by about 50 pulses. In each group, the volume raises and then descends gradually, reaching its peak a little after the half of its duration. The dominant frequency is in the range of 2 - 2.5 KHz.
La responsabilità per la scorretta identificazione della specie dal canto è esclusivamente mia
Responsibility for incorrect species identification from the song is exclusively mine