Modalità video suggerita:1024x768 16 M colori
Suggested Video Mode: 1024x768 16 M Colors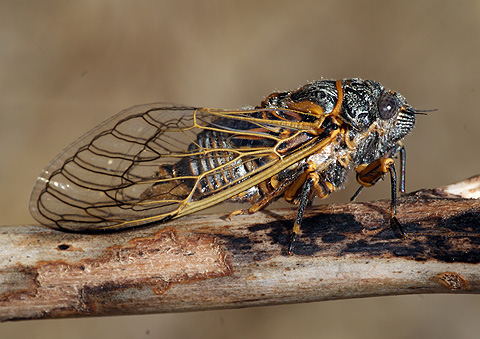 Tibicina corsica corsica - Photo: Cesare Brizio
Click su qualsiasi immagine per ascoltare il mio campione audio (391Kb). Dispongo di registrazioni molto pi¨ lunghe dello stesso canto.
Click on any image to listen to my audio sample (391Kb). I have available much longer recordings of the same song.
Descrizione canto
Un intenso e acuto frinire, quasi un sibilo, nelle ore pi¨ calde della giornata. Esistono molte specie con un canto quasi identico.
An intense and high-pitched buzz, almost an hiss, in the hottest hours of the day. Many species exist with a very similar song.
La responsabilitÓ per la scorretta identificazione della specie dal canto Ŕ esclusivamente mia
Responsibility for incorrect species identification from the song is exclusively mine