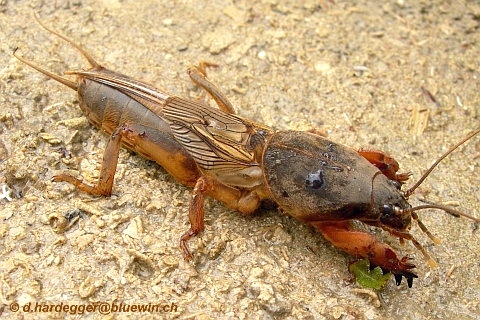 Gryllotalpa vineae - Photo (Gryllotalpa gryllotalpa): http://www.gnvu.ch/Orthoptera/Orthoptera_Arten/grygry/grygry.htm
Click su qualsiasi immagine per ascoltare il mio campione audio (173Kb). Dispongo di registrazioni molto pi¨ lunghe dello stesso canto.
Click on any image to listen to my audio sample (173Kb). I have available much longer recordings of the same song.

Devo molti ringraziamenti al Sig. Jean-Louis PRATZ e al Sig. Julien BARATAUD, che hanno suggerito le localitÓ in cui era possibile registrare G. vineae.
I owe many thanks to Mr. Jean-Louis PRATZ and Mr. Julien BARATAUD, who suggested the localities where G. vineae could be recorded.
Descrizione canto:&nbsp/&nbspSong description:
Circa un ottava sopra il canto di G. gryllotalpa, il canto di G. vineae (che ho registrato in Francia, presso BÚziers) ha la stessa struttura ma Ŕ molto pi¨ cristallino e metallico. La conformazione della tana garantisce al canto una pressione sonora molto elevata, dell'ordine di 80 dB a un metro dalle aperture, incomparabilmente superiore a quella generata da G. gryllotalpa. Vedi anche http://jeb.biologists.org/cgi/reprint/52/3/619.
About one octave above the song of G. gryllotalpa, the song of G. vineae (that I recorded in France, near BÚziers) hase the same structure but is much more crystalline and metallic. The conformation of the burrow grants a very high sound pressure to the song, about 80 dB at one meter from the openings, incomparably higher of that generated by G. gryllotalpa. See also http://jeb.biologists.org/cgi/reprint/52/3/619.
La responsabilitÓ per la scorretta identificazione della specie dal canto Ŕ esclusivamente mia
Responsibility for incorrect species identification from the song is exclusively mine