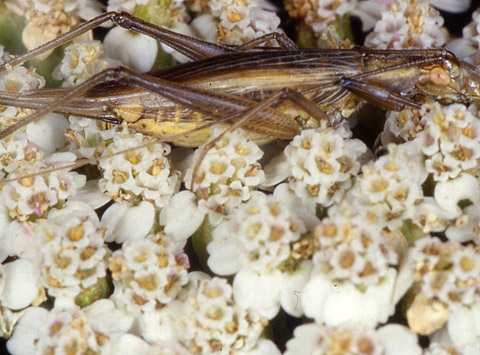 Oecanthus pellucens - Photo: Cesare Brizio
Click su qualsiasi immagine per ascoltare il mio campione audio (157Kb). Dispongo di registrazioni molto più lunghe dello stesso canto.
Click on any image to listen to my audio sample (157Kb). I have available much longer recordings of the same song.
Descrizione canto tratta da:&nbsp/&nbspSong description excerpted from: P. Fontana, F.M. Buzzetti, A. Cogo,B. Odè – Guida al riconoscimento di Cavallette, Grilli, Mantidi e Insetti affini del Veneto – Guide Natura / 1 – Museo Naturalistico Archeologico di Vicenza (Libro / Book + Audio CD)

Canta di sera o nelle calde notti estive. Il canto consiste di una serie di forti e melodiosi "trrriii" (versi) che durano 0,5 - 1 secondi e sono ripetuti molto regolarmente con frequenza di circa 0,5 - 2 al secondo. Tutti i versi di una serie sono uguali e consistono di circa 15 - 30 sillabe. Il canto di corteggiamento è sconosciuto. La localizzazione degli esemplari seguendone i canti e difficile: il suono prodotto viene modulato, alzando in vario grado le tegmine, dando l'impressione che questo provenga ora da vicino, ora da lontano.
O. pellucens sings in the evening and at night. This is the cricket song of warm summer evenings. The song consists of a series of melodious "tree"-sounds (echemes), lasting 0,5 - 1s and repeated very regularly at the rate of about 0,5 - 2/s. All echemes in a series are equal, consisting of about 15 - 30 syllables. A separate courtship song is unknown to us.
La responsabilità per la scorretta identificazione della specie dal canto è esclusivamente mia
Responsibility for incorrect species identification from the song is exclusively mine