Modalità video suggerita:1024x768 16 M colori
Suggested Video Mode: 1024x768 16 M Colors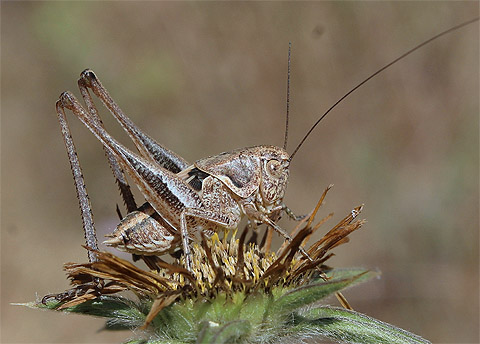 Platycleis intermedia intermedia - Photo: http://www.flickr.com/photos/69055300@N05/9126330706/
Click su qualsiasi immagine per ascoltare il mio campione audio (127Kb). Dispongo di registrazioni molto più lunghe dello stesso canto.
Click on any image to listen to my audio sample (127Kb). I have available much longer recordings of the same song.
Descrizione canto modificata da:&nbsp/&nbspSong description modified from: P. Fontana, F.M. Buzzetti, A. Cogo,B. Odè – Fauna d'Italia Vol. XLVIII – Calderini Edagricole Editore, 2013(Libro / Book + Audio DVD)

Può essere udita di notte e di giorno. Il canto di questa specie contiene una serie di suoni "dzi" (versi disillabici) ripetuti a un ritmo di circa 2 / 3 al secondo. Non è facile udire il suono, registrazioni ultrasoniche mostrano una frequenza di picco centrata attorno ai 45kHz.
It can be heard by day and at night. The song of this species contains a series of "dzee" sounds (disyllabic echemes) repeated at a rate of around 2 / 3 per second. It's not easy to hear the sound, ultrasocnic recordings show a peak frequency centered around 45kHz.
La responsabilità per la scorretta identificazione della specie dal canto è esclusivamente mia
Responsibility for incorrect species identification from the song is exclusively mine
Spettrogramma del mio campione audio / Spectrogram of my audio sample

Oscillogramma del mio campione audio / Oscillogram of my audio sample