Modalità video suggerita:1024x768 16 M colori
Suggested Video Mode: 1024x768 16 M Colors


Pterolepis pedata - Photo: https://images.naturalis.nl/original/204853.jpg
Click su qualsiasi immagine per ascoltare il mio campione audio (265Kb). Dispongo di registrazioni molto pi¨ lunghe dello stesso canto.
Click on any image to listen to my audio sample (265Kb). I have available much longer recordings of the same song.
Descrizione canto:&nbsp/&nbspSong description:
P. pedata Ŕ stata registrata al crepuscolo. Il canto Ŕ composto da versi della durata di 6 - 8 decimi di secondo, composti da 10/12 sillabe fruscianti. In ogni verso, le sillabe crescono rapidamente di intensitÓ. L'ultima sillaba pu˛ avere volume inferiore rispetto a quelle immediatamente precedenti. Nella registrazione svolta, i versi sono emessi ogni circa 5 secondi. Il canto Ŕ difficile da udire.
P. pedata was recorded at dusk. The song is composed by echemes lasting 0.6 - 0.8 sec, composed by 10/12 swishing syllables. In each echeme, the syllables rapidly grow in intensity. The last syllable may have a lower volume than those immediately preceding. In the recorded sample, echemes are emitted around every 5 seconds. The song is difficult to hear.
La responsabilitÓ per la scorretta identificazione della specie dal canto Ŕ esclusivamente mia
Responsibility for incorrect species identification from the song is exclusively mine
Spettrogramma del mio campione audio / Spectrogram of my audio sample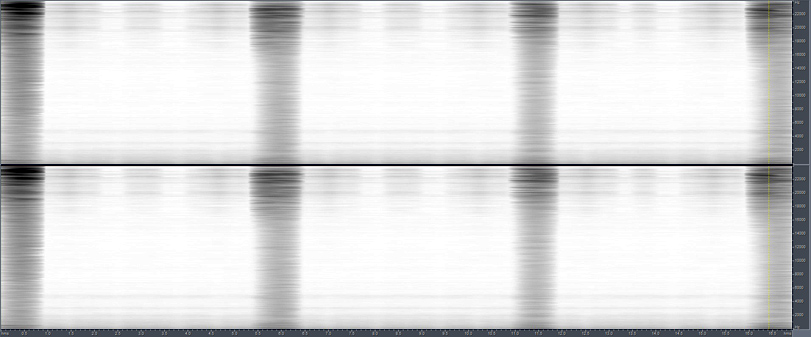 Oscillogramma del mio campione audio / Oscillogram of my audio sample