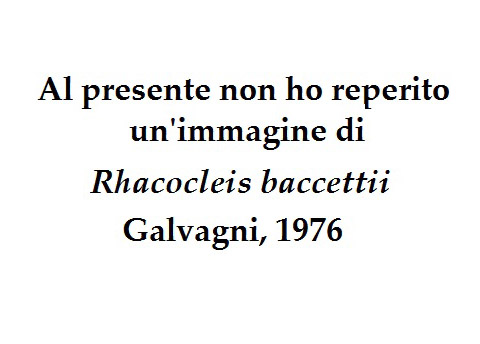 Rhacocleis_baccettii - Photo: Cesare Brizio
Click su qualsiasi immagine per ascoltare il mio campione audio (181Kb). Dispongo di registrazioni molto più lunghe dello stesso canto.
Click on any image to listen to my audio sample (181Kb). I have available much longer recordings of the same song.
Descrizione canto da:&nbsp/&nbspSong description from: B. Massa, P. Fontana, F.M. Buzzetti, R. Kleukers, B. Odè – Fauna d'Italia Vol. XLVIII - Orthoptera – Calderini Edagricole Editore, 2013(Libro / Book + Audio DVD)

Il canto di richiamo è differente in diverse località. Nella maggior parte delle località della Sardegna , il canto di richiamo è un verso di circa 50-90 msec ("zr"), ripetuto a un ritmo di 4-7/sec. Consiste di circa 2-3 sillabe, ripetute ad un ritmo di circa 35-40/sec. Le prime sillabe sono più flebili delle altre. Sul monte limbara il canto è diverso. Qui i versi durano più a lungo (fino a 160 msec) e contengono 4-7 sillabe che sono ripetute a un ritmo di 45/sec. Saranno necessarie ulteriori ricerche per chiarire queste differenze.
In most localities of Sardinia the calling song is an echeme of about 50-90ms ("zr"), repeated at a rate of 4-7/s. It consists of about 2-3 syllables, repeated at a rate of about 45-50/s. The first syllable is quieter than the others. In Monte Limbara the song is different. Here echemes last longer (up to 160ms) and contain 4-7 syllables that are repeated at a rate of 45/s. More research is needed to clarify these differences.
La responsabilità per la scorretta identificazione della specie dal canto è esclusivamente mia
Responsibility for incorrect species identification from the song is exclusively mine