Modalità video suggerita:1024x768 16 M colori
Suggested Video Mode: 1024x768 16 M Colors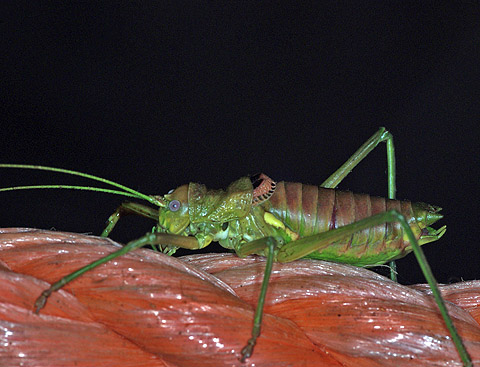 Uromenus brevicollis insularis - Photo: Cesare Brizio
Click su qualsiasi immagine per ascoltare il mio campione audio (181Kb). Dispongo di registrazioni molto più lunghe dello stesso canto.
Click on any image to listen to my audio sample (181Kb). I have available much longer recordings of the same song.
Descrizione canto modificata da:&nbsp/&nbspSong description modified from: B. Massa, P. Fontana, F.M. Buzzetti, R. Kleukers, B. Odè – Fauna d'Italia Vol. XLVIII - Orthoptera – Calderini Edagricole Editore, 2013(Libro / Book + Audio DVD)

Il canto di richiamo maschile consiste in una serie di sillabe ripetute ad un ritmo di circa 1,8-2/sec. Solo le emisillabe di chiusura sono intense e durano per circa 250-350 msec e consistono di circa 100 colpi di dentello. L'esemplare da me registrato a circa 21°C era difficilmente udibile (frequenze dominanti attorno ai 30 kHz) e le emisillabe duravano circa 500 msec. A orecchio il canto ricorda la seconda emisillaba del canto di Ephippiger ephippiger.
The male call song consists of a series of syllables repeated at a rate of about 1.8-2/sec. Only the closing emisyllables are intense and last for about 250-350 msec and consist of approximately 100 denticle hits. The specimen I recorded at about 21°C was difficult to hear (dominant frequencies around 30 kHz) and emisyllables lasted about 500 msec. To the unaided ear the song reminds of the second emisyllable in Ephippiger ephippiger's song.
La responsabilità per la scorretta identificazione della specie dal canto è esclusivamente mia
Responsibility for incorrect species identification from the song is exclusively mine
Spettrogramma del mio campione audio / Spectrogram of my audio sample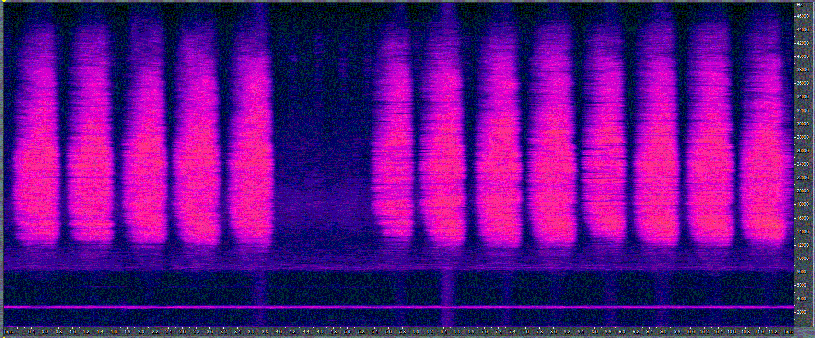 Oscillogramma del mio campione audio / Oscillogram of my audio sample