Dissertation for my Degree in Earth Sciences - La mia tesi di laurea in Scienze Geologiche
I digitized the text of my dissertation (Italian text only), discussed on July 13, 1983, by flatbed scanner and Abbyy FineReader 6.0 software. The quality of the typewritten original required no less than 4 full revisions to eliminate all the problems with misinterpreted characters, in particular accented wowels, and to get rid of the manual breaks introduced within most words to keep the right margin straight. Seven big size (up to 2m x 1.5m) maps were included in the dissertation, all obtained as diazo prints, and kept tightly folded for around 35 years, with wear and discoloration along the folds. Of those maps, the geological sections and the stratigraphic columns where scanned in BW in portions of about A4 size, and digitally assembled with minor losses at the junctions, all the others were simply photographed. The digital picture of the geological map was improved by drawing more visible lines above the traces of the geological sections, and by putting visible numbered markers in the relevant outcrops.
Ho digitalizzato il testo (italiano) della mia tesi, discussa il 13 Luglio 1983, con uno scanner piano e con il software Abbyy FineReader 6.0. La qualitá del dattiloscritto originale ha richiesto non meno di quattro passaggi di revisione completa per eliminare i problemi di caratteri mal riconosciuti, in particolare le vocali accentate, e per sbarazzarsi delle andate a capo manuali introdotte in moltissime parole per mantenere un margine destro rettilineo. La tesi includeva sette mappe di grande formato (fino a 2m x 1.5m), tutte ottenute con procedimento eliografico, e conservate strettamente ripiegate per circa 35 anni, con usura e discolorazione lungo le pieghe. Di tali mappe, le sezioni geologiche e le colonnine stratigrafiche sono state scansionate in bianco e nero in porzioni di dimensione A4 circa, e sono state assemblate digitalmente con piccole perdite in corrispondenza delle congiunzioni, tutte le altre mappe sono semplicemente state fotografate. L'immagine digitale della carta geologica è stata migliorata disegnando linee più visibile sopra le tracce delle sezioni geologiche, e mettendo marcatori numerati ben visibili in corrispondenza degli affioramenti rilevanti.
---
CLICK ON THE PREVIEW TO ACCESS THE FULL SIZE VERSION - FATE CLICK SULL'ANTEPRIMA PER ACCEDERE ALLA VERSIONE FULL SIZE
---
Dissertation - Full text (Italian) - Testo completo della tesi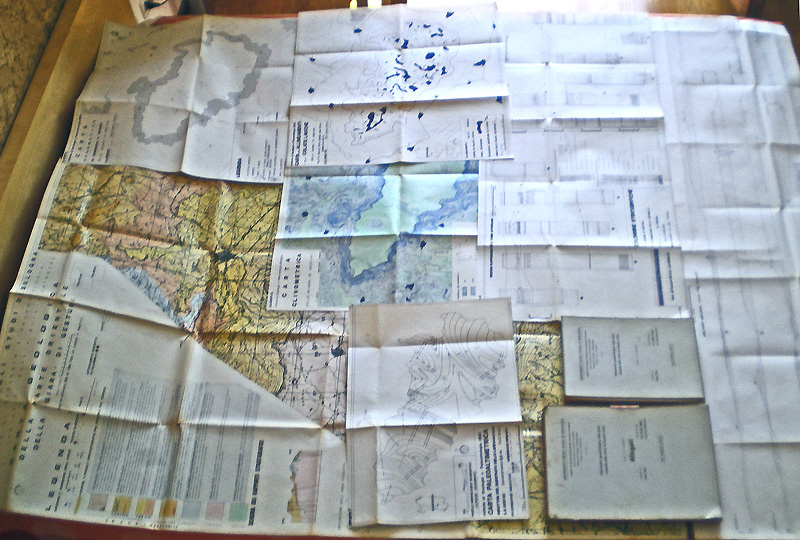 ---
Geological Map - Carta Geologica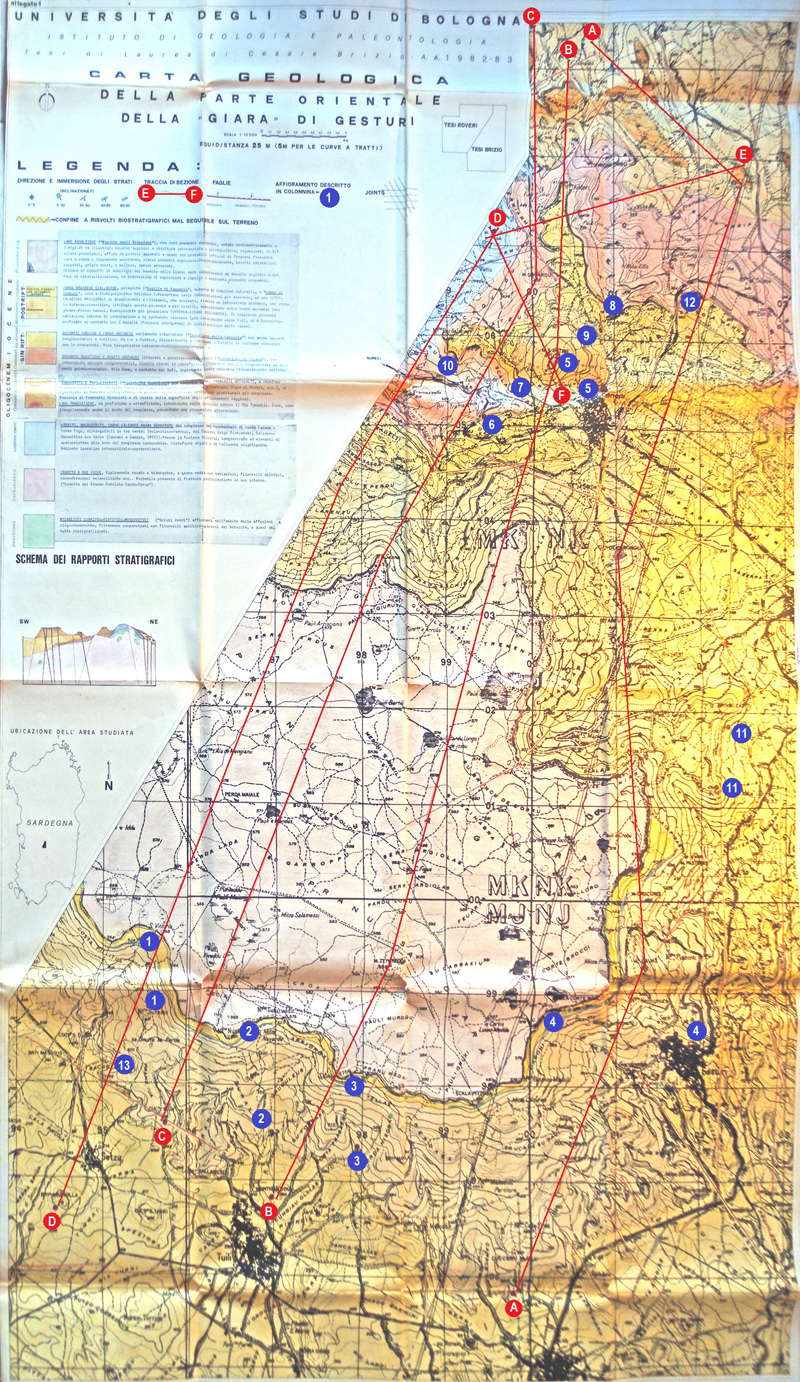 ---
Geological Map - Legend - Carta Geologica - Legenda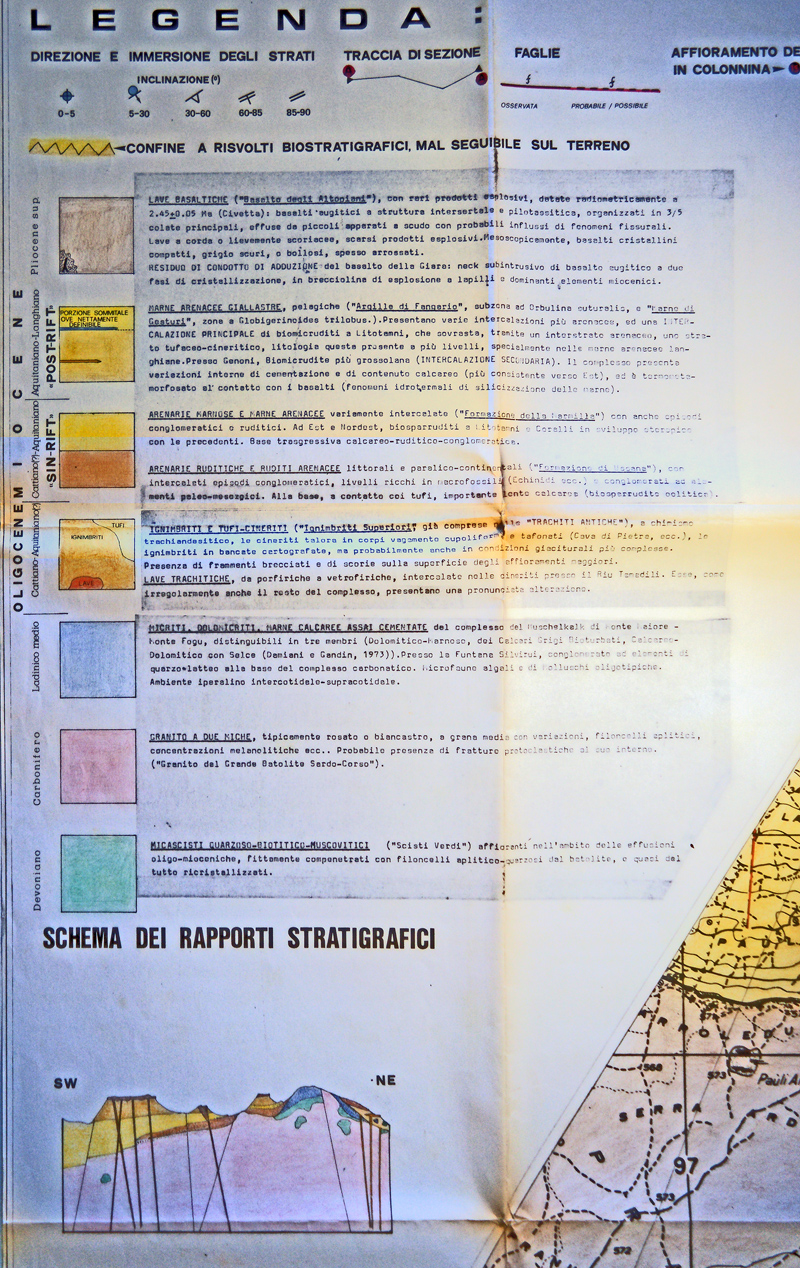 ---
Geological Sections - Sezioni Geologiche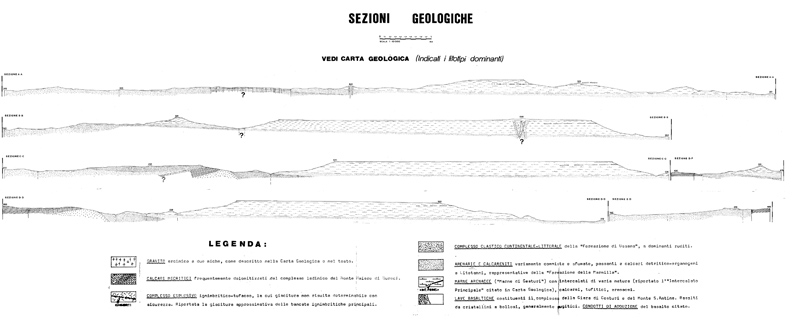 ---
Stratigraphical Columns - Colonnine stratigrafiche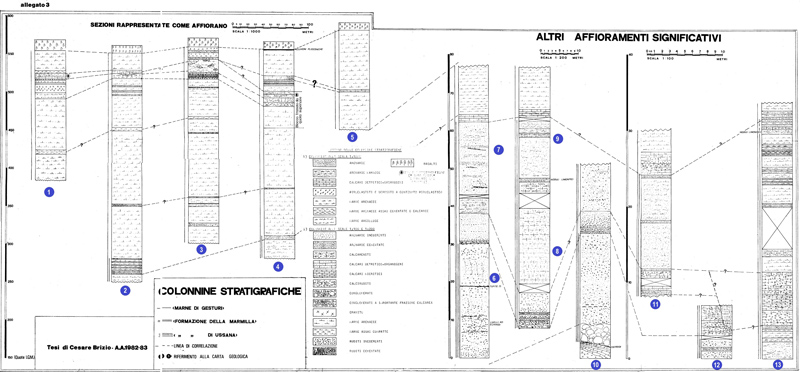 ---
Slope Class Map - Carta Clivometrica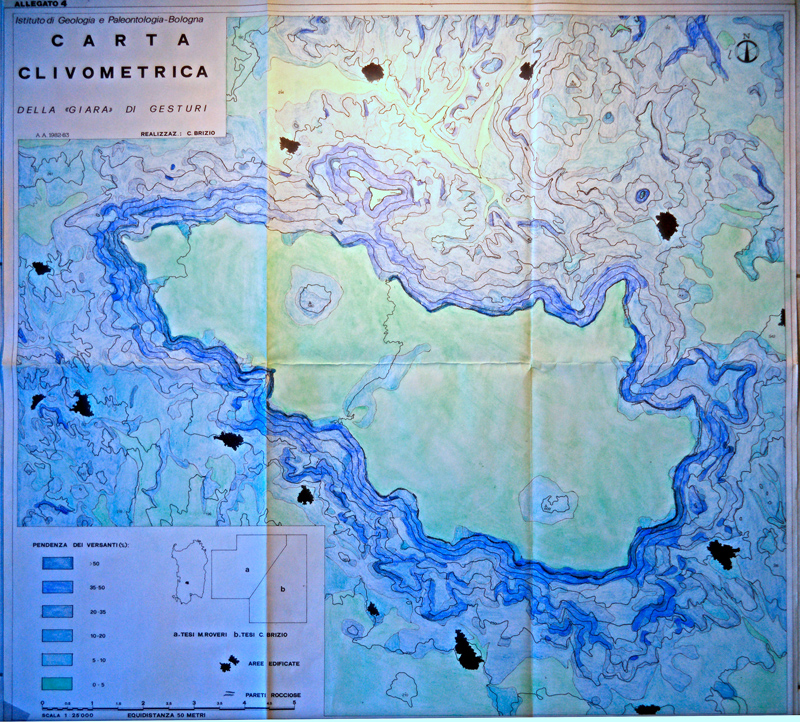 ---
Map of Hydrography and Debris - Carta di Idrografia e Detrito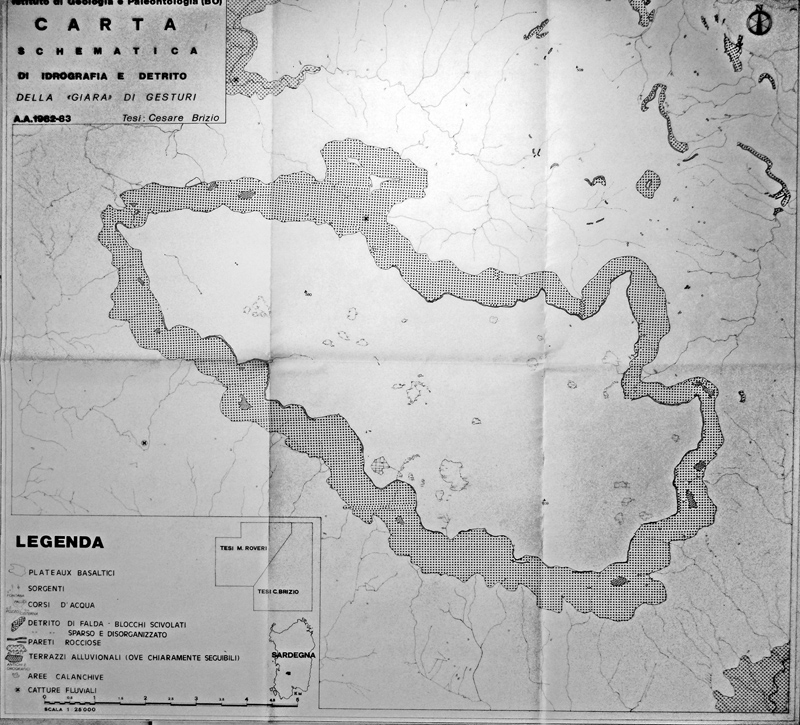 ---
Map of Alignments and Lava Flows - Carta degli Allineamenti e delle Colate Laviche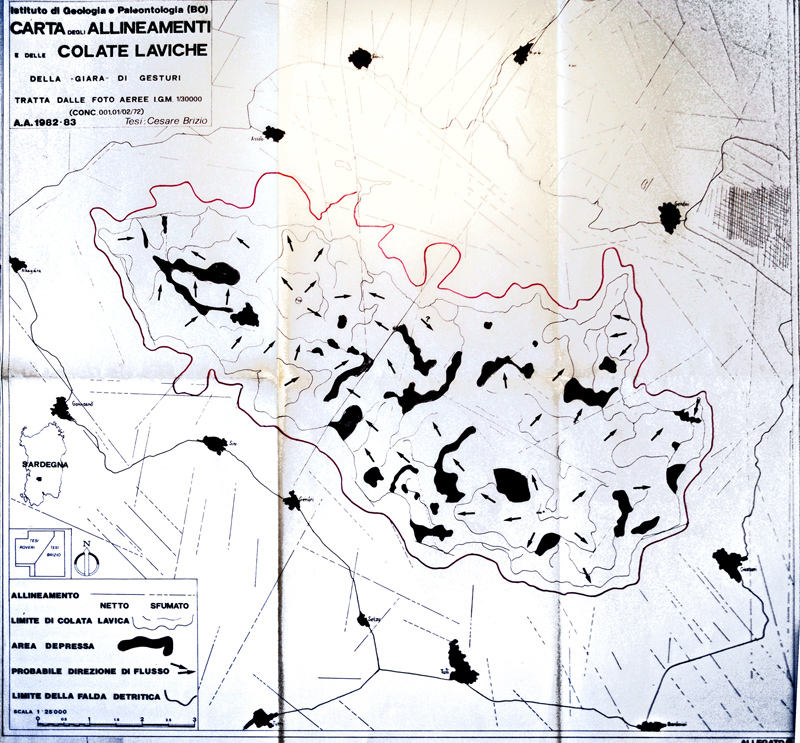 ---
Map of palaeo-altitudes under the Basaltic lavas - - Carta paleoaltimetrica del substrato delle lave basaltiche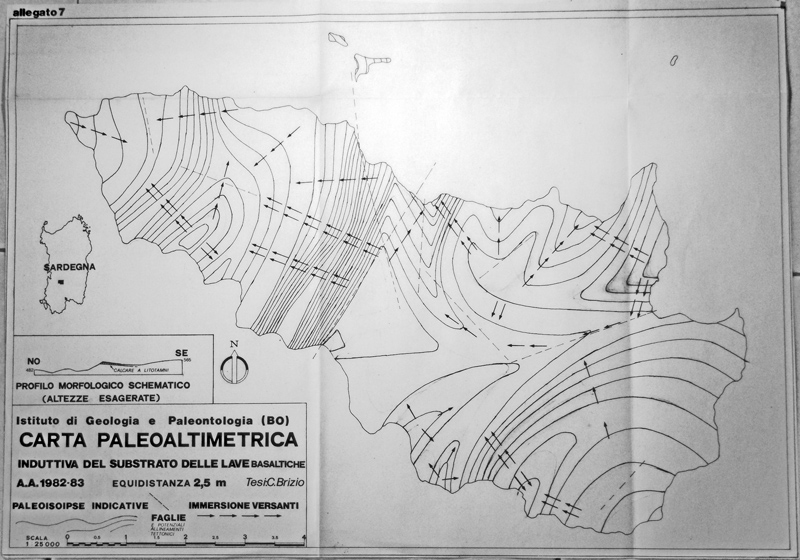 ---
❦