Modalità video suggerita:1024x768 16 M colori
Suggested Video Mode: 1024x768 16 M Colors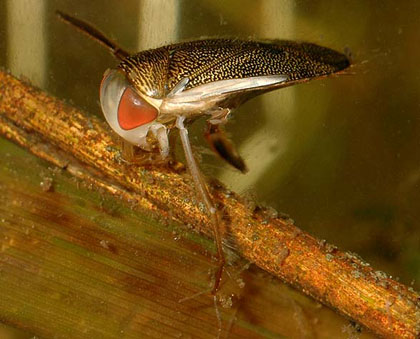 Corixa_sp - Photo: Gerard Visser - http://www.microcosmos.nl/bugs2/lbwatis.htm
Click su qualsiasi immagine per ascoltare il mio campione audio (345Kb). Dispongo di registrazioni molto pi¨ lunghe dello stesso canto.
Click on any image to listen to my audio sample (345Kb). I have available much longer recordings of the same song.
Descrizione canto
Registrato con idrofono. Canto subacqueo il cui ritmo varia drasticamente a seconda della temperatura dell'acqua. Consiste in una sequenza di una ventina di treni di impulsi che gradualmente diventano pi¨ forti durante l'emissione di una sequenza. Nel campione audio la sequenza dura circa 0,5 secondi e viene ripetuta ogni 3 / 5 secondi. Ogni treno d'impulsi dura circa 15 millisecondi e si compone di almeno 4 sillabe.
Recorded by hydrophone. Underwater song, whose rhythm drastically varies according to water temperature. It consists in a sequence of about twenty pulse trains, gradually increasing in volume during the sequence. In the audio sample the sequence lasts about 0,5 seconds and is repeated every 3 / 5 seconds. Each pulse train lasts about 15 milliseconds and is repeated every 3 / 5 seconds.
La responsabilitÓ per la scorretta identificazione della specie dal canto Ŕ esclusivamente mia
Responsibility for incorrect species identification from the song is exclusively mine