Please refer to the the page about photomicrography in transmitted light of five years ago for preliminary information about the use of polarizers and the preparation of microscope slides with solutions of polarizing substances.
This page describes the optical setup that allowed me to take a few more pictures in polarized light, this time by coupling my DeltaPix Invenio 8DII camera with the Lomo Biolam 70 microscope that I restored in recent years.
Rimando alla pagina sulla fotomicrografia in luce trasmessa di cinque anni fa per informazioni preliminari sull'uso di polarizzatori e sulla preparazione di vetrini con soluzioni di sostanze polarizzanti.
Questa pagina descrive il setup ottico che mi ha consentito di fare qualche altra foto in luce polarizzata, stavolta accoppiando la mia videocamera DeltaPix Invenio 8DII con il microscopio Lomo Biolam 70 che ho restaurato negli ultimi anni.
To couple the camera with the eyepiece tube, I used the adapters in the image below - recycling a part of the optics used to take pictures with a microscope objective.
Per accoppiare la videocamera con il tubo oculare, ho usato gli adattatori nell'immagine sotto, riciclando una parte dell'ottica usata per fotografare con un obiettivo da microscopio.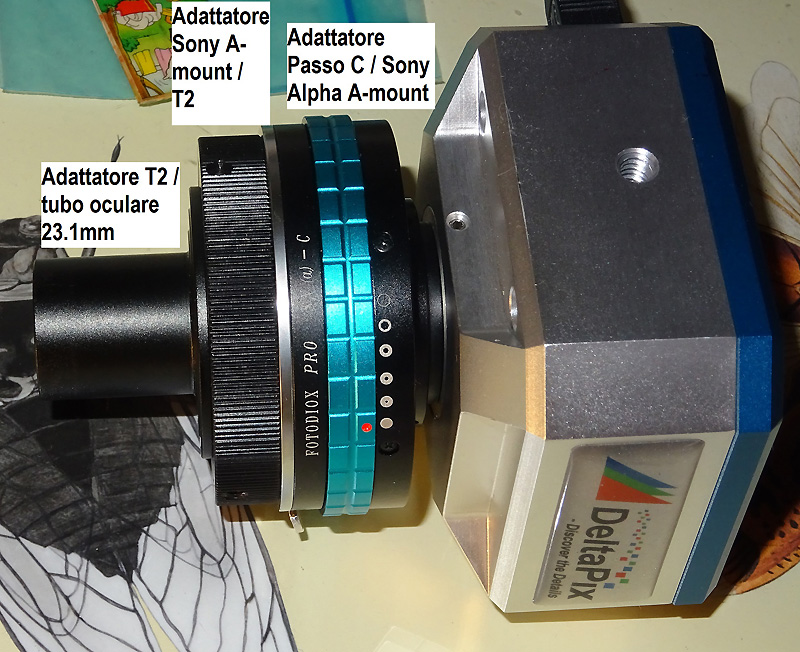 The lower polarizer was inserted in one of the filter-holding rings above the condenser. I built a small adapter made with two concentric rings of PVC, the polarizer is a pre-cut 25mm disc.
Il polarizzatore inferiore è stato inserito in uno degli anelli porta-filtro sopra il condensatore. Ho costruito un piccolo adattatore fatto con due anelli concentrici di PVC, il polarizzatore è un dischetto pre-tagliato di 25mm.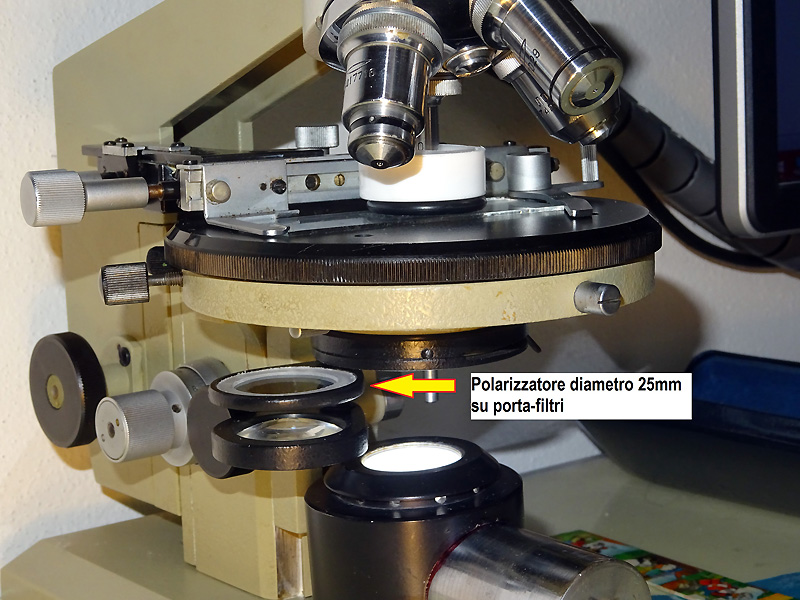 The upper polarizer was reused from its previous intallation under the Meiji Techno Unimac Macroscope, that required enclosing it at the bottom of a small cap. The bottom of the cap lays towards the slide, to allow the objective to get as close to the slide as needed. Considering that there is no covering glass above the crystals that precipitated with uneven thickness above the slide, to avoid damage to the polarizer an o-ring is interposed under the cap, as shown.
The rotation needed to cross the polarizers as needed for the best color effects is accomplished by rotating the microscope table much more than it would be usual in transmitted light microscopy. Unfortunately, the mechanical stage that holds the slide allowing precise adjustments interferes with the objectives mounted on the revolver. For ease of use, the unused objectives were temporarily removed as illustrated below.
Obviously, one could also manually rotate the cap containing the upper polarizer, but the movement would be less precise than the smooth table rotation.
Il polarizzatore superiore è stato riusato dalla sua precedente installazione sotto il macroscopio Meiji Techno Unimac, che aveva richiesto di includerlo al fondo di un piccolo coperchio. Il fondo del coperchio è appoggiato verso il vetrino, per consentire all'obiettivo di giungere vicino al vetrino quanto necessario. Considerando che non c'è coprivetrino sui cristalli che sono precipitati con spessore disuniforme sopra al vetrino, per evitare danni al polarizzatore è stato interposto un o-ring sotto il coperchietto, come illustrato.
La rotazione necessaria per incrociare i polarizzatori coe necessario per i migliori effetti di colore si otiene ruotando il tavolino del microscopio molto di più di quanto si fa di solito nella microscopia in luce trasmessa. Sfortunatamene, lo stadio meccanico che trattiene il vetrino consentendo regolazioni di precisione interferisce con gli obiettivi montati sul revolver. Per facilitare l'utilizzo, gli obiettivi inutilizzati sono stati temporaneamente rimossi, come illustrato sotto.
Ovviamente, si potrebbe anche ruotare il coperchietto che contiene il polarizzatore superiore, ma il movimento sarebbe assai meno preciso della fluida rotazione del tavolino.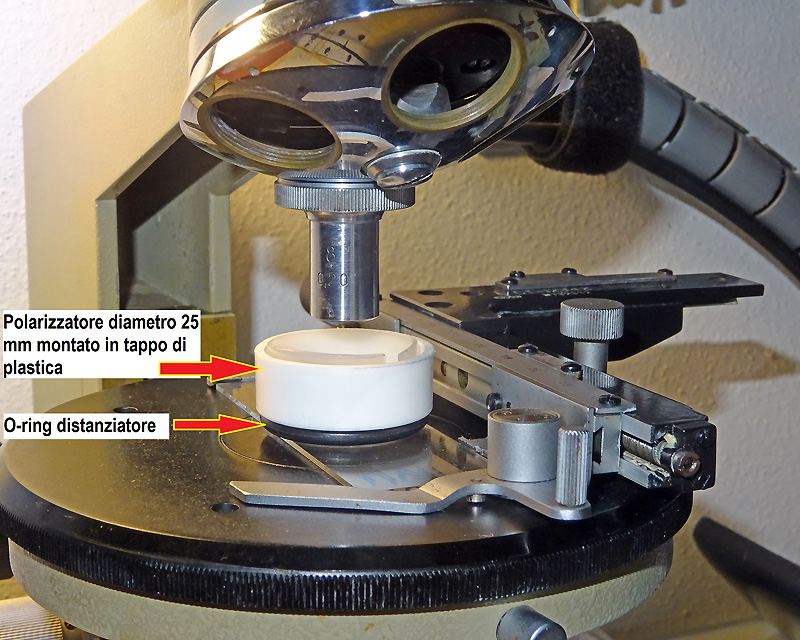 The complete setup.
Il setup completo.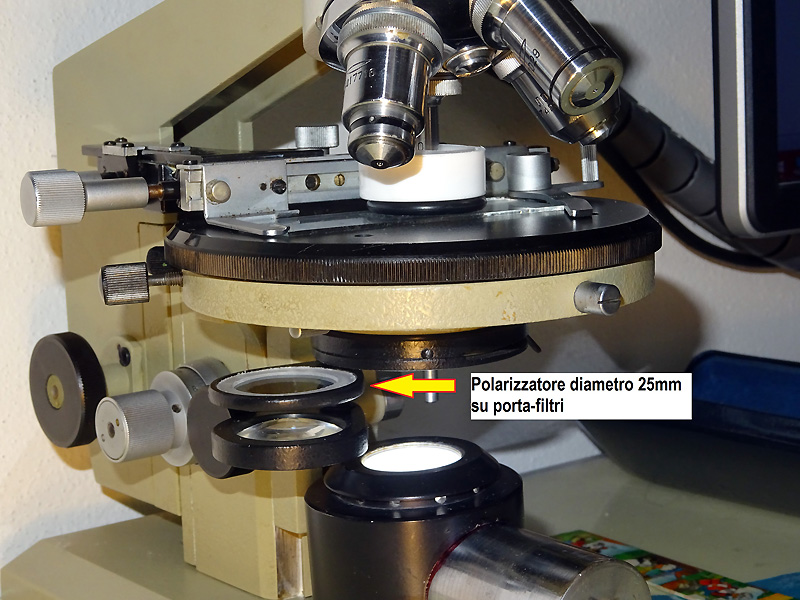 "Urea"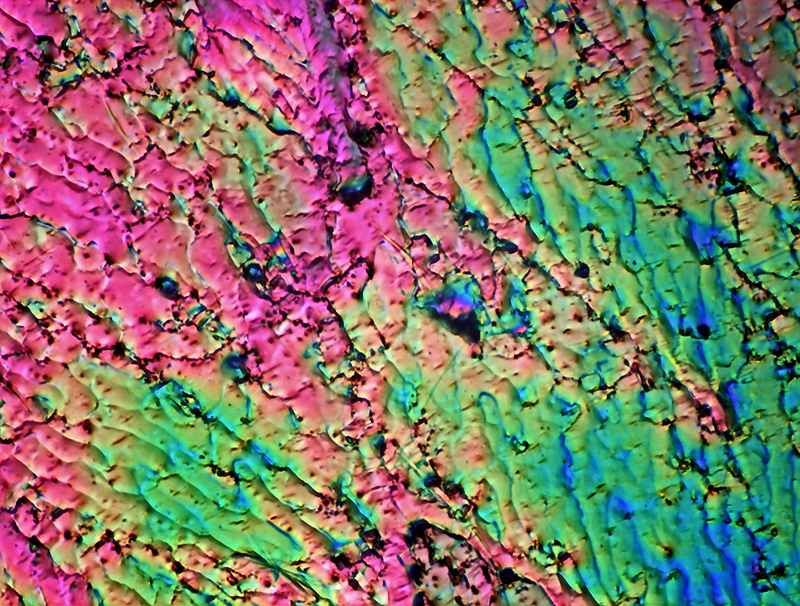 "Ascorbic Acid 1"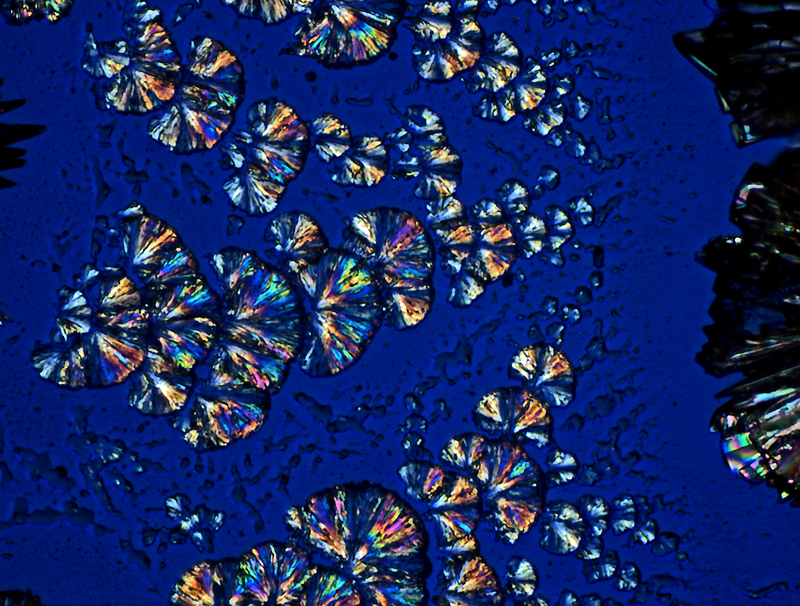 "Ascorbic Acid 2"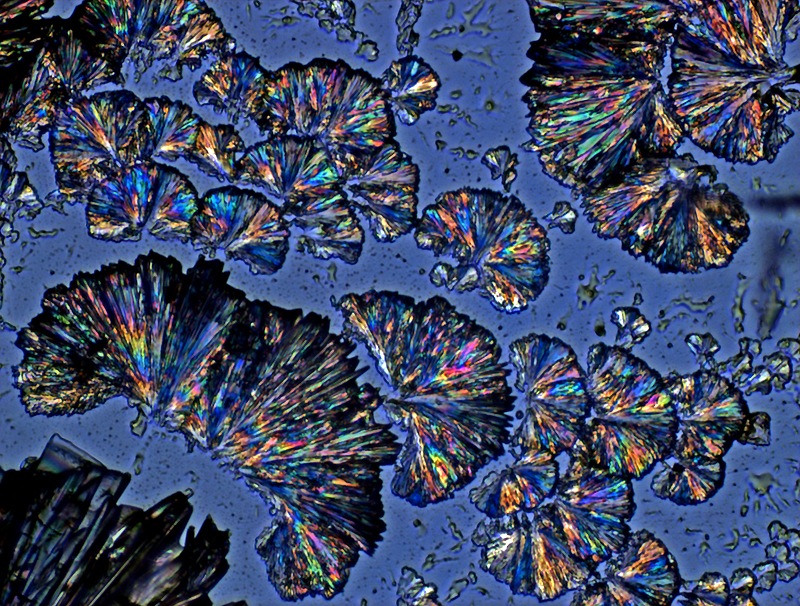 "Ascorbic Acid 3"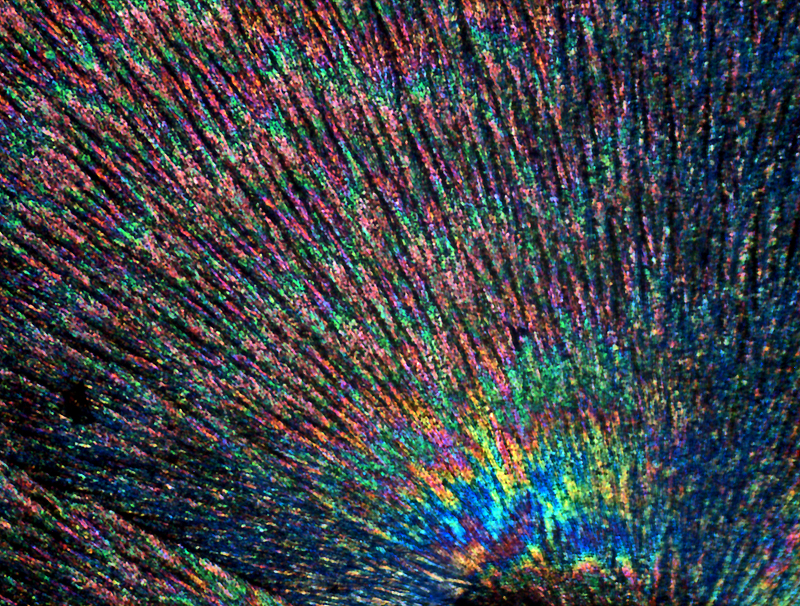 "Citric Acid"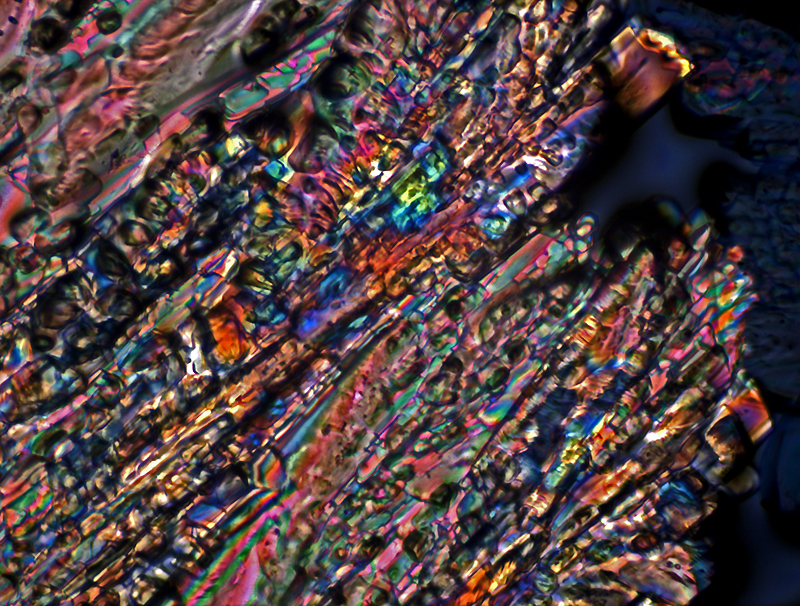 "Malic Acid"